For the past twelve months Crispin Rendon has been publishing a monthly eBook on the Families of Saltillo Coahuila, Mexico. I applaud his dedication and determination to provide us with these great genealogical resources. Yesterday I received another email from him letting me know that he had just released his twelve volume in this series. Bellow the partial screen shot of the eBook cover you will find his email with the link so that you may download your own copy.
I also want to thank Crispin for including a link to the recent book published by our community "The Mier Church Padrones 1796 to 1806". You will also find the link to it included on his email. You will also find another link to Crispin's "Given Names Project" eBook.
Partial eBook Cover: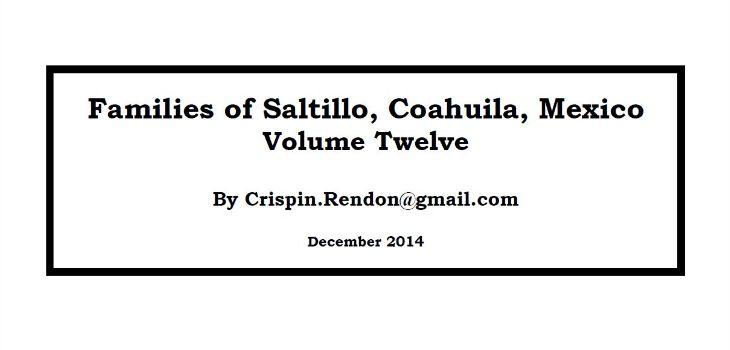 Email form Crispin Rendon:
I have posted online another Saltillo families volume.
My internet site exceeded the monthly download quota last month.
I have included a link to the Given Names booklet if you want another chance to download it.
Families of Saltillo, Coahuila, Mexico Volume Twelve
http://home.earthlink.net/~crisrendon/scmv12.pdf
Given Names Project
http://home.earthlink.net/~crisrendon/GivenNamesProject.pdf
Also I have a message and link from Moises Garza.
Just wanted to let you know that the book "The Mier Church Padrones 1786 -1806" is now available for download.
Here is the link: https://www.wearecousins.info/2014/12/the-mier-church-padrones-1796-1806/
Happy Holidays,
Crispin Rendon
I hope that you download these three great eBooks since you never know for how long they will be available. If these eBooks help you in any way let me know in the comments section of this post. I would love to read about it.