Growing up I heard my grandma say once or twice that she was the cousin of Eulalio Gonzalez, El Piporro.
My dad used to reinforce this whenever I would be watching a Pedro Infante movie where Piporro would come out. He would also mention it whenever I would watch a movie of his.
in the early 2000's I came across a website for Eulalio Gonzalez and his email was listed there.
So, I sent him an email asking him if he knew my grandmother and he responded by saying that her name did not sound familiar. I then emailed him back asking for the name of his parents and he sent them to me along with the names of his grandparents.
For whatever reason, I did not follow up on the conversation and months later I found out that he had passed away.
I did not resume my research until recently.
What sparked my interest was a conversation with one of the members of the Mexican Genealogy group where she stated that she comes out in the background of a movie that Piporro filmed, and produced in Laredo, Texas.
I google the movie and a ton of stuff about Piporro came up. I ended up watching an interview of his that was very informative as to his early childhood and of how he ended up making movies.
The Grandparents of Eulalio Gonzalez Piporro
Eulalio Gonzalez Piporro was born Decmeber 21, 1921 in Los Herreras Mexico. His parents Pablo Gonzalez and Elviara Ramirez married January 24, 1921.
His paternal grandparents are Jose Eulalio Gonzalez and Maria Paula Barrera. On his maternal side, they are Martin Ramirez and Antonia Gonzalez, for whom I was not able to find anything else on them.
He was raised in Los Guerras, Tamaulipas.
How Dominga Marroquin is Related to Eulalio Gonzalez Piporro
After doing research, it turns out that they were in fact related. Since my grandmother said they were cousins I was searching for a first cousin and it turns out that they were fourth cousins.
But, one has to keep in mind that this relationship is only through the known ancestors that I found for Piporro. I have yet to find out more about his maternal grandparents. I also have yet to find the father of his 2nd great grandfather Jose Bernardo Gonzalez who was married to Maria Ramona Guerra.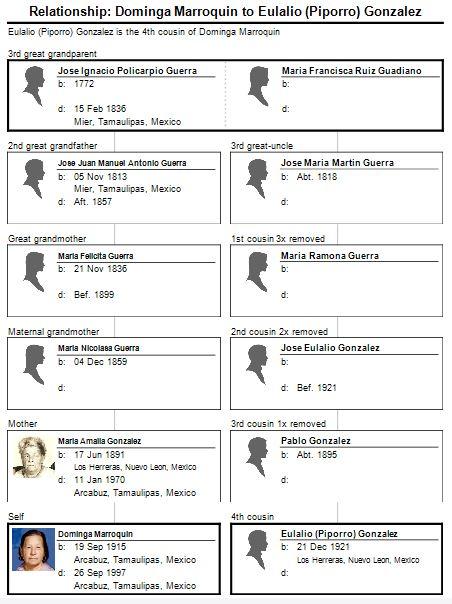 If you are related to him and or have more information about his maternal grandparents please send me a message or leave a comment below.
Interview with Eulalio Gonzalez Piporro
Hope you enjoy watching this video as much as I did.