This is the 1721 death record of my 9th great grandmother in Monterrey, Nuevo Leon, Mexico. She died in January 26, 1721. She was the widow of Sargento Mayor Francisco de la Garza whom died in 1719. This document does not mention it but her parents were Jacinto Garcia de Sepulveda and Clara Fernandez de Renteria. I am a descendant of hers through her son Clemente Garza Falcon.
Cut out of Original Image: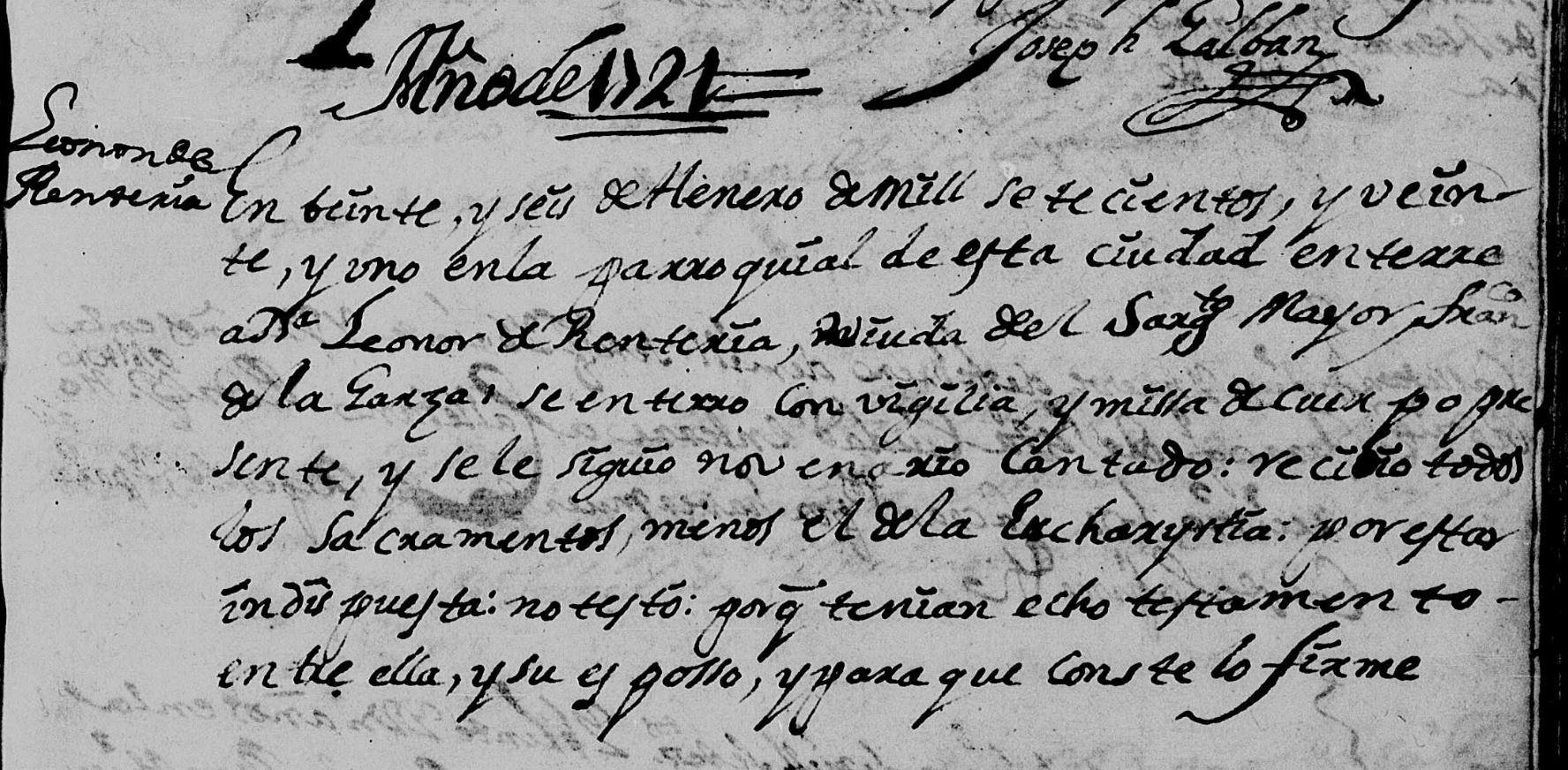 View Original Image at FamilySearch.org
Transcription of death image:
Leonor de Renteria
En beinte, y seis de Henero de mill Setecientos, y veinte, y uno enla parroquial de esta ciudad enterre as Da Leonor de Renteria, viuda del Sargto Mayor Francisco de la Garza, se enterro con vigtilia, y missa de cuerpo presente, y sele siguio novenario cantado: recivio todos los sacramentos, menos el de la Eucharistia: por estar indispuesta: no testo: porq tenian echo testamento entre ella, y su esposso, y para que conste lo firme
[no signature]
Sources:
"México, Nuevo León, registros parroquiales, 1667-1981," database with images, FamilySearch (https://familysearch.org/pal:/MM9.3.1/TH-1-159380-55565-86?cc=1473204 : accessed 13 June 2016), Monterrey > Catedral > Defunciones 1668-1752 > image 128 of 368; Parroquias de la Iglesia Católica, Nuevo León (Catholic Church parishes, Nuevo León).