Volume Two of Crispin Rendon's latest project is out, titled Families of, Galeana, Nuevo Leon, Mexico Volume Two. Below you will find a short description of this particular volume and also a copy of the email that I received, both by Crispin Rendon.
Description of Volume Two by Crispin Rendon:
Volume two of this series contains marriage information from 500 marriage records found on film 728340 (matrimonios 1718-1836). These marriages occurred in the time span of February 1766 to May 1789. These marriages are found on images 214-279. Basic information from the marriage records is presented along with other information gathered in an attempt to present two generation descendant reports. Most of the non-marriage record information presented was gathered using the FamilySearch.org database index.
Partial Image from Cover of eBook Families of, Galeana, Nuevo Leon, Mexico Volume Two: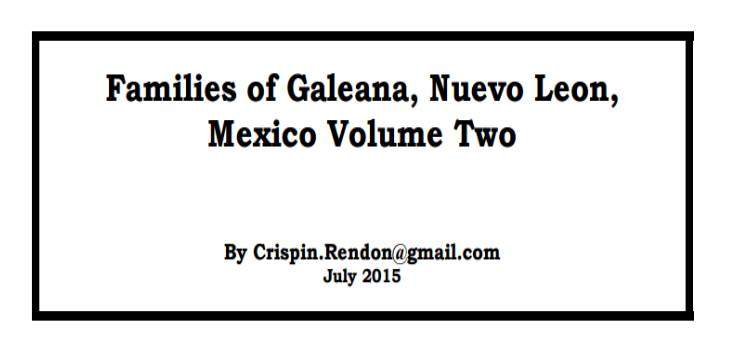 Email from Crispin Rendon:
This email is going out to everyone in my genealogy address books.
I have posted another free online book.
Families of, Galeana, Nuevo Leon, Mexico Volume Two
http://home.earthlink.net/~genteran/GaleanaV2.pdf
Today I got another of many emails asking if I will be going to the annual Texas Hispanic Genealogy Conference in Laredo.
Ten years ago the Laredo conference was my first. I had hoped to meet Lupita Castillo. She was the president of that group. She had been emailing me for some time always asking me to help one of her members with research. I was glad to help. Sadly she died shortly before the conference. My primo Jose Felipe de la Garza was at the conference-leading a field trip. I had to know Jose for some years. He lived in Ventura, California. I had visited him and his wife many times. Some wonderful times. He has since died of cancer. I met Guadalupe Martinez and his wife for the first time at that conference. He has since passed away. Joel Rene Escobar was selling his books there. His sisters have taken over his book sales since he died. Angel Brown, Charles Sadler, Gilbert Patino all gone.  Anyway, I very much enjoyed that conference and those since then. I am not going this year.
Back in my teenage years, I remember an acquaintance died in a car accident. I had a reoccurring thought that I was somehow responsible. The idea was nonsense in that I only heard about the accident sometime later. Since then when someone dies that I have known I get those same thoughts. Silly but true.
My sanity aside; the take away is: make an impression, it may outlive you.
Best Regards,
Crispin Rendon
As I have mentioned before, I have already registered for the upcoming conference in Laredo, Texas (You can read more about it here: 36th Annual Texas State Hispanic Genealogical and Historical Conference). I was looking forward to meeting with Crispin in person as I did last year. To tell you the truth Crispin's work has helped me allot and as you have already seen I add him as a source on almost every post regarding my ancestors since he has provided so many clues that have helped me find copies of the original documents. Not to mention all the eBooks that he has published are a wealth of information. Crispin if you read this, Thank You! You have made an impression on me, I appreciate your work and all that you do for our community.
Download All Volumes in this Series
Families of Galeana, Nuevo Leon, Mexico Volume One
Families of Galeana, Nuevo Leon, Mexico Volume Two
Families of Galeana, Nuevo Leon, Mexico Volume Three
Families of Galeana, Nuevo Leon, Mexico Volume Four