This past Tuesday Crispin Rendon released his first volume, out of five, in his new series of the Families of Galeana, Nuevo Leon, Mexico. Bellow you will find a description of the volume by Crispin Rendon and also the email that I received which includes the link to download this eBook. This eBook is invaluable and I highly recommend that you download and add it to your genealogical digital library.
Description of this volume by Cripsin Rendon:
This is the first of five families of Galeana volumes. This volume contains marriage information from the first 500 marriage records found on film 728340 (matrimonios 1718-1836). These marriages occurred in the time span of August 1718 to February 1766. These marriages are found on images 8-214. Basic information from the marriage records is presented along with other information gathered in an attempt to present two generation descendant reports. Most of the non-marriage record information presented was gathered using the FamilySearch.org database index.
Partial Image of eBook Cover: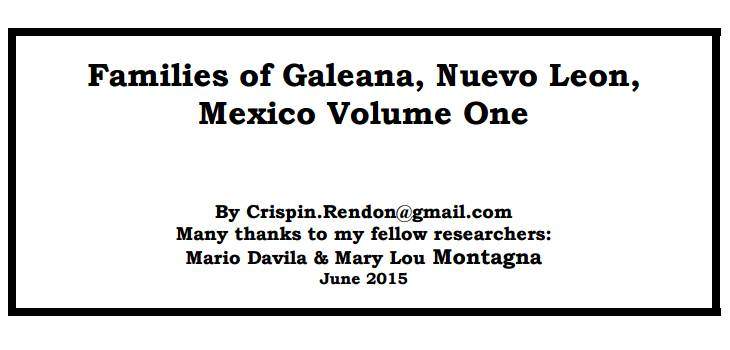 Email that I received:
This message is going out to everyone in my genealogy address book.
I have posted online
Families of Galeana, Nuevo Leon, Mexico Volume One
http://home.earthlink.net/~genteran/GaleanaV1.pdf
Best Regards,
Crispin Rendon
If your family has roots to Galeana please let me know in the comments section of this post. Also let me know how this eBook helped you out. i love to hear success stories. Also please note that if the above link is not working it is because the server where it is being hosted probably ran out of bandwidth so you will have to try latter.