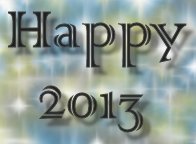 On this last day of 2012 I just want to wish you and your families a very Happy New Year and also share a recap of 2012 and my goals for this blog in this coming year of 2013.
This blog started as a personal blog and a place to document my own family genealogy and history but with time it has turned out to be a valuable resource to many. I just hope it continues to grow and help as it has been doing so.
Recap of 2012
Had over 80 new Facebook likes.
393 New Twitter Followers
Had over 10,000 unique visitors
Received over 50 emails form distant cousins.
Wrote over 365 posts.
Moved to WordPress.
6 Guest Posts
Goals for 2013
Reach 300 Facebook Likes, currently at 121. If you like a post please re-share with your friends.

Reach 1000 Followers on twitter, currently at 485. 

365 Posts on my family ancestry and resources.
Get 20,000 unique visitors, if you can spread the word.
Connect with more distant cousins.
Master WordPress, I am almost there.
Write the Newsletter at least once a Month, I know that I was terrible this year, only went out twice or thrice.
10 or more guest posts, you are always welcomed to make a guest post.
I just hope that  2013 will be more productive since I know this blog has helped many and continues to help people connect with their ancestors. I have been very fortunate for the wealth of records available at FamilySearch.org. I just hope they continue to be available. Once again thanks for reading and see you in 2013, have a very Happy New Years!!! Can't wait for the menudo tonight.