In July Anthony Garza published another book about Reynosa and it is titled "Censo de Reynosa 1890: Volume III Reynosa Collection (Volume 3)". This census is huge since it covers Reynosa plus 138 of it's rural communities. At first glance the book is kind of confusing so make sure to read the Introduction to quickly learn on how it is laid out.
Also a quick tip: The census is grouped by Sections and Ranches and all people are listed continually but you can still make out the couple followed by the children. It is also great that their place of birth, ages, and employment is provided.
i want to thank Anthony for providing me a free copy for our Las Villas del Norte Library.
Description by Anthony Garza:
This book is the transcription of the 1890 Reynosa Census and the third volume of the Reynosa Collection. It is a valuable genealogical resource since it is one of the last censuses taken before the 1930 Mexico Census. The census divided the jurisdiction of Reynosa into 18 sections. The first four sections covered the town of Reynosa which 25% of the population lived, and the remaining 75% of the population resided in the other 14 sections that covered 138 rural communities and ranches.
Cover of book " Censo de Reynosa 1890: Volume III Reynosa Collection (Volume 3)"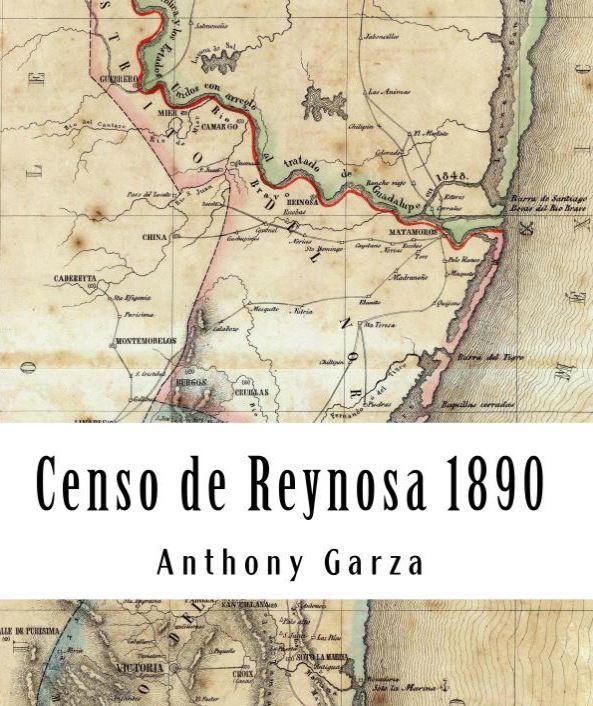 Price: 29.99
If you have roots to Reynosa I highly recommend that you get this book as well as the other books by Anthony.
Other Books by Anthony Garza
Matrimonios de Reynosa Años 1791-1912 – These are the first two volumes in the collection that Anthony is slowly publishing about Reynosa.