This past Tuesday I shared with you Crispin's volume one of new eBook series in regards to the Families of China, Nuevo Leon, Mexico. Today it is with great excitement that I share with you his latest eBook in this series, it is "Families of China, Nuevo Leon, Mexico Volume Two". Crispin has made this ebook free and I highly recommend that you get your own copy for your digital library before it is gone. These ebooks are an essential resource to anyone researching Nuevo Leon, specially the families of China Nuevo Leon.
Description of Volume by Crispin Rendon
Volume two of four in this series of Families of China, Nuevo Leon contains marriage information from 500 marriage records found on the FamilySearch.org browse online collection (matrimonios 1795-1919). These marriages occurred in the time span of November 23, 1833 to September 20, 1856. These marriages are found on images 120-239. Basic information from the marriage records is presented along with other information gathered in an attempt to present two generation descendant reports. Most of the non-marriage record information presented was gathered using the FamilySearch.org database index.
Cover of eBook Families of China, Nuevo Leon, Mexico Volume Two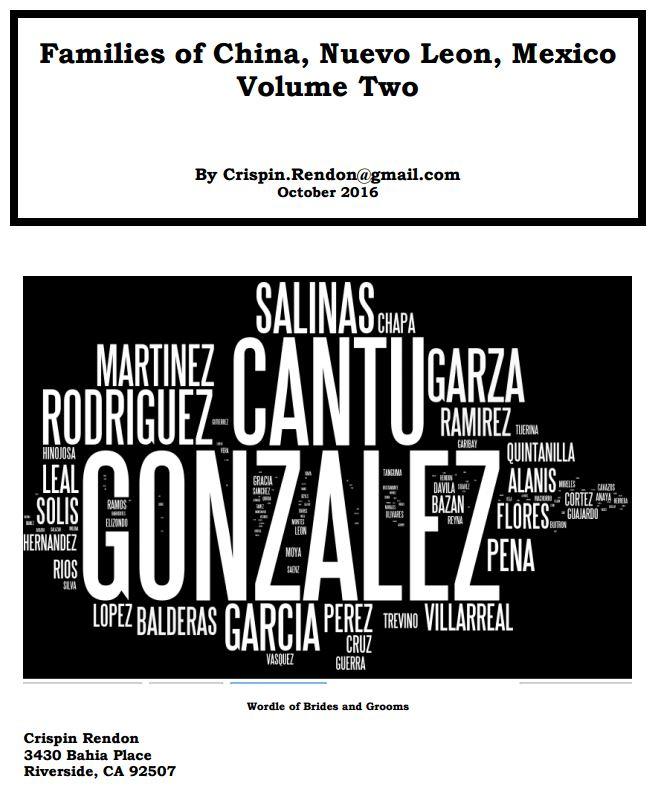 Short Part of email pertaining to this eBook:
I have posted online another free ebook.
Families of China, Nuevo Leon, Mexico Volume Two
http://home.earthlink.net/~cnltmex/chinav2.pdf
As Always,
Crispin Rendon
More Great Genealogical Resources from Crispin Rendon
Click on the below link to find more resources that Crispin has shared with us in the past.
Like always don't forget, download your own copy since bandwidth is limited and if it already ran out you will need to wait till next month to get your own copy.
Let me know of any great discoveries that you may find within this gem of a book.