This is the June 15, 1677 death record of my 9th great grandmother Ana de Maya, she died and is buried in Monterrey, Nuevo Leon, Mexico. This document indicates that she was the wife of Alfarez Real Juan de Treviño.
I have yet to find whom her parents were. Through other documents we have come to know that Juan de Treviño was the son of Joseph de Trevino and Maria Navarro. I am a descendant of her though her daughter Nicolasa.
Cut out of Original Image: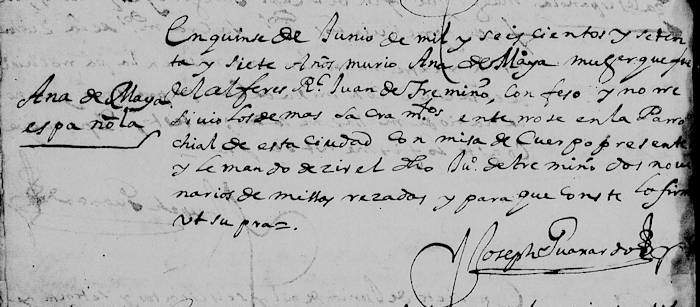 View Original Image at FamilySearch.org
Transcription of death image:
Ana de Maya española
En quince de Junio de mil y seiscientos y setenta y siete Años murio Ana de Maya mujer que fue del alferes Rl. Juan de Tremiño, confeso y no resivio Los de mas Sa Ora mtos. enterrose enla Parrochial de esta ciudad con misa de Cuerpo presente y le mando dezirle dicho Jua. de Tremiño dos novenarias de missa rezadas y para que conste lo firme ut supra =
Joseph Guaxardo
Sources:
"México, Nuevo León, registros parroquiales, 1667-1981," database with images, FamilySearch (https://familysearch.org/pal:/MM9.3.1/TH-1-159380-55381-68?cc=1473204 : 21 May 2014), Monterrey > Catedral > Defunciones 1668-1752 > image 16 of 368; Parroquias de la Iglesia Católica, Nuevo León (Catholic Church parishes, Nuevo León).
Ana de Maya's mtDNA Report
Also if you are interested Crispin Rendon made a DNA report on her here is the link to it: http://www.wearecousins.info/2016/07/female-mtdna-descendants-of-ana-de-maya/
Recommended Books
If you are new to Mexican Genealogical Research make sure to check out my book "Mexican Genealogy Research Online A Guide to Help You Discover Your Ancestry 2nd Edition".
Another great resource, that is if we have ancestors in common, is my book "Ancestors of Moises Garza From Nuevo Leon, Tamaulipas, and Coahuila: From the 1500's to the 2000's".