Las Villas del Norte Genealogy Group has published their first Journal titled "Las Villas del Norte 2016 Journal" and it is now available for purchase. I had the honor of editing many great articles and putting the journal together.
All articles are about South Texas and Northeastern Mexico and down below you can see the table of contents. This journal will be a great addition to your genealogical library.
I also published several articles myself and provided a list of resources for DNA research. Thanks to all members of Las Villas del Norte whom articles made this publication possible.
Make sure to look at the very bottom of this page for the two ways that you can get a hold of this journal.
Cover of Journal: Las Villas del Norte 2016 Journal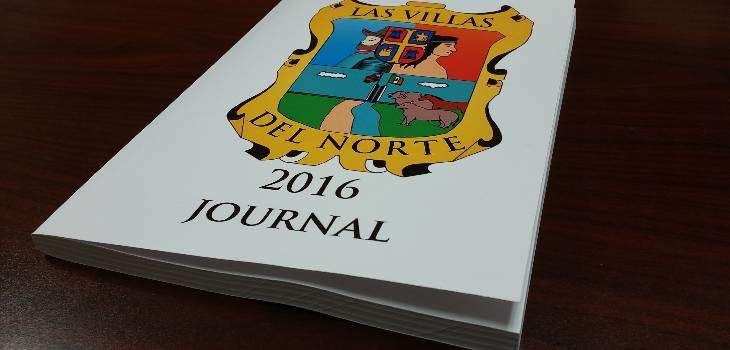 Click here or on the above image to view on Amazon.com
$29.99 New Buy Now
Table of Contents to Las Villas del Norte 2016 Journal:
Here is the table of contents of this book so that you may know exactly what it contains.
Introduction Pg. 1
Biography's
The Life and Ancestry of Florencia Osio By Anthony Garza Pg. 4
Lazaro Anzaldua By Fernando Anzaldua Pg. 8
The Honorable Judge Dario Rigoberto Garcia, Sr., Master Genealogist by Maria Irma Salinas Saldaña and Eddie U GarciaPg. 17
Ancestor Reports And Pedigree Charts
Pedigree Chart for Dario Flores Pg. 26
Pedigree Chart for Hilda Salas Pg. 27
Pedigree Chart for Moises Garza Pg. 28
Ancestors of Dario Flores Pg. 29
Ancestors of Hilda Salas Pg. 37
Eight Generations of Guerra by Irma Saldana Pg. 49
Descendant Report on Nicolas Zamora and Maria Ines Mungia By Lina Kitchens Pg. 53
My Martinez Lines From the Founding of Saltillo to the Cotton Fields of Robstown by Viola Sadler Pg. 54
Descendancy Chart Juan Francisco Martinez Guajardo to Jose Gil Martinez Pg. 94
Descendants of Ciracio Osio and Cipriana Reyes By Anthony Garza Pg. 103
Ancestors of Dario Rigoberto Garcia, Sr. by Maria Irma Salinas Saldaña Pg. 112
South Texas and North Eastern Mexico Ranches and Schools
The Founding of Las Escobas Ranch in Starr County, Texas By Maria Irma Saldaña Salinas Pg. 117
Escuala Faja De Oro (The Belt of Gold School) By Moises Garza Pg. 123
Personal Journeys And Brick Walls
How I got Started in Genealogy By Joe Andrade Pg. 129
Finding My Roots In South Texas By Michelle Hinojosa Melencio Pg. 131
De La Garza Family Genealogy Book Dedication and Introduction By Rose Puype Pg. 134
It Only Took Me Ten Years By Moises Garza Pg. 140
Last Names Research
Northern Mexico and Southern Texas CANO Family By Jose Rolando Cano Pg. 145
DNA Genealogy Reports
The Y-DNA of Francisco Javier de La Garza By Moises Garza Pg. 151
Research Transcriptions
1807 Camargo Muster Roll by Anthony Garza Pg. 165
The Second Permanent Company of Tamaulipas Stationed in Guerrero in 1828 Transcribed by Moises Garza Pg. 167
Genealogy Resources
Genealogy Resources by Lina Kitchens Pg. 173
DNA Resources
DNA Resources for Genealogy By Moises Garza Pg. 177
Available Publications From Las Villas Del Norte
March 2015 Newsletter Volume 1 Issue 1 Pg. 181
June 2015 Newsletter Volume 1 Issue 2 Pg. 182
September 2015 Newsletter Volume 1 Issue 3 Pg. 183
December 2015 Newsletter Volume 1 Issue 4 Pg. 184
The 1757 Censuses of Laredo, Dolores, Revilla, Mier, Camargo, and Reynosa Pg. 185
Get our Publications For Free Pg. 185
Membership Application
Get Your Copy of Las Villas del Norte 2016 Journal:
There are two ways you can get a copy of this journal:
From Amazon BUY NOW you get the printed version.
Trade an old genealogy book for a copy of our printed journal, for more details, leave me a message below.
Join Las Villas del Norte memberships start as low as $69.95 yearly. JOIN NOW
Read More About our Other Journals
Here are the links to them. Remember is you become a member of Las Villas del Norte you get online access to all these journals. That's a great bargain!
Please let me know in the comment area of what you think about this journal.