This is the June 15, 1683 death record of my 9th great grandfather Juan Cavazos in Monterrey, Nuevo Leon, Mexico. He was married to Elena de la Garza. This document does not indicate it but his parents were Gabriel Cavazos and Simona Campo who was from Villa Santa Maria, Castilla Vieja, Spain. If you happen to know who his grandparents are please send me an email.
Cut out of Original Image: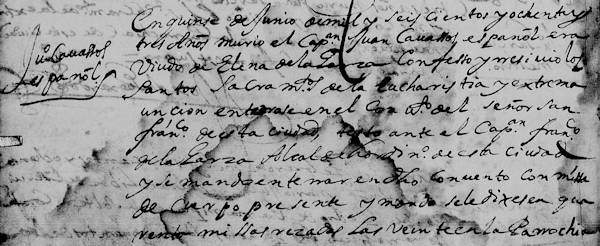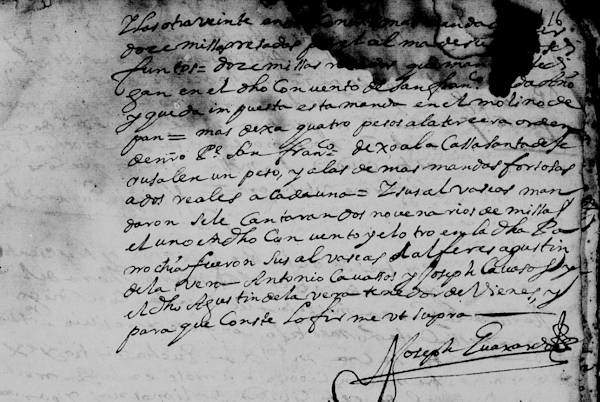 Transcription of death image:
Juan Cavassos espanol
En quinse de Junio de mil y seis cientos y ochenta y tres anos murio el Capan. Juan Cavassos espanol era viudo de Elena de la Garza Confesso y recivio los Santos Sacramtos. de la Eucharistia y extrema uncion enterase en el Con vto. del Senor San Franco. de esta ciudad, testo ante el Capan. Franco. de la Garza Alcalde Ordnpo. de esta ciudad u se mando enterrar en Eho convento con missa de cuerpo presente y mando se le dixeran quarenta missas rezadas Las veinte en la Parrochia y las otra veinte en [inked] dose missas resadas [inked and torn] gan en el dicho convento de San Franco. [inked] da Ano y queda inpuesta esta manda en el molino de pan = mas dexa quatro pesos a la tercera orden denino Pr. San Franco. dexo a la cassa santa de Jesusa len un peso, y alas de mas mandas forsosas a dos reales a cadauna = Y sus alvaseas mandaron sele cantaran dos novenarios de missa y el uno en dicho Convento y el otro en la Dicha Parrochia fueron sus alvaseas el alferes Agustin de la Vera – Antonio Cavassos y Joseph Cavassos q y el Dicho Agustin de la Vera tene dos de Vienes, y para que Conste lo firme ut supra –
Jospeh Guajardo
Book on the Descendants of Juan Cavazos and Elena de la Garza
Cavazos: Last Names of Nuevo Leon
Sources:
"México, Nuevo León, registros parroquiales, 1667-1981," database with images, FamilySearch (https://familysearch.org/pal:/MM9.3.1/TH-1-159380-55387-74?cc=1473204 : accessed 12 January 2016), Monterrey > Catedral > Defunciones 1668-1752 > image 24 of 368; Parroquias de la Iglesia Católica, Nuevo León (Catholic Church parishes, Nuevo León).
Crispin D Rendon, Crispin D. Rendon – Ancestor Book for Moises Garza (3430 Bahia Place, Riverside, CA 92507, Crispin D Rendon, February 9, 2014), Personal Archives of Moises Garza, Pg. 308.