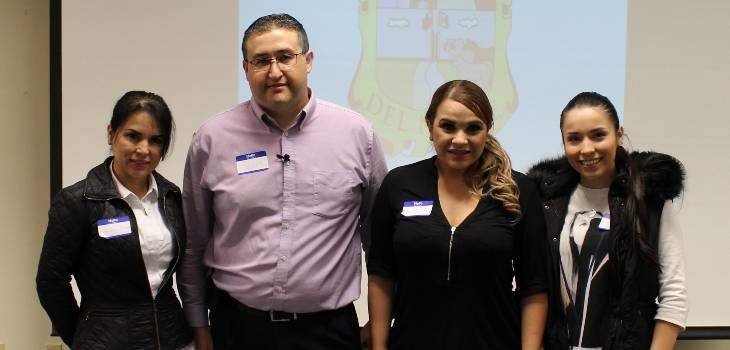 This past March the 8th I did a presentation for Las Villas del Norte in Mission Texas. We had over 24 attendees and I had allot of fun meeting and talking with most of them. If you are not aware last month I started a website called Las Villas del Norte and once a month on the second Sunday we will be meeting at the Speer Memorial library in Mission Texas. Before I tell you more about Las Villas del Norte let me tell you about my presentation.
I started the presentation with an overview of Las Villas del Norte and it's benefits. Then after I did that I did the main presentation where I explained on how I used the Church Padrones (Censuses) to break two of my brick walls. I also provided ideas as to where to locate these census records. Overall I have gotten great feed back from members of Las Villas del Norte in regards to my presentation. By the way did I mention that you can see my presentation if you become a member of Las Villas del Norte? Yes all presentations will be recorded for our members.
About Las Villas del Norte
The purposes of the Las Villas del Norte Genealogical Group will be: To promote, develop, and preserve genealogical and historical resources of South Texas and Northeastern Mexico; To improve the dissemination of such resources on print and digital formats; To cooperate with local, regional, national and statewide groups in promoting our heritage; and To help family historians get started with genealogy research as they pursue their family's past.
The Main Goal
The main goal of Las Villas del Norte Genealogical Group is to provide the same benefits that a genealogical society provides but in a digital platform.
We provide our members with;
A digital quarterly News Letter,
One Monthly Video and Audio Recording of a Genealogical Presentation,
A yearly Digital Journal,
New Members get the book "Las Villas del Norte, The 1757 Censuses of Laredo, Dolores, Revilla, Mier, Camargo, and Reynosa" mailed to the address provided during registration,
Access to our Growing Archives of digital Newsletters, Yearly Journals, Video and Audio Recordings.
Members Only Content Posts,
Access to our private Facebook group,
Links to Hundreds of Genealogical Resources,
Access to our growing eBook library.
All this from the comfort of your own home and at your own time, you chose when and were to access our content.
To become a member of Las Villas del Norte Genealogical Group click here: BECOME A MEMBER TODAY!
Another awesome benefit that members get is the ability to create research groups and or research projects. They also have the ability to contact any member through the built in messaging system. As of today we have a total of 54 members. I hope to see you there.