This is the third post that I write in the Going Digital With Genealogy Series. In this post, I will write about some of the benefits of using Family Tree Maker and as to why I have used them since 2012. For those of you that may be reading this blog for the first time and do not know what Family Tree Maker is here is a very brief description. Family Tree Maker is a genealogical program/software that is made by Ancestry.com to help you manage your family tree and also keep your documents organized.
AS I have mentioned before I started to use Family Tree Builder originally and stuck with them for over nine years. Their program was free but had many limitations. You could only back up a family tree of 250 people of less to the web and the citation capabilities were not that great. You had to create a citation for each fact from scratch. Thus making you waste precious time. In 2012 I had bought Family Tree Maker 2012 and tried it to only find that it seemed difficult to use and I ended up uninstalling it without giving it a real chance. Months later I made the decision to change no matter what and to stick with it. I slowly got the hang of the interface and explored all of its options and benefits. I soon fell in love with the software and the environment created by Ancestry.com.
My Main Reason for Using Family Tree Maker
I was looking for a program that could offer superb citation capabilities. As I mentioned before with Family Tree Builder offered by MyHeritage.com you had to create a unique citation for every fact. For example, if you wanted to cite a death certificate that provided the deceased person's date of birth, place of birth, death, place of burial, names of parents and place where parents were from. You had to manually create a citation for each fact even though you were using the same source for all those facts. In turn with Family Tree Maker, you can create one citation for the documents and just link to all the facts by using the existing citation feature. This has saved me countless hours of data entry and is the main reason that I moved to Family Tree Maker.
My Second Reason for Using Family Tree Maker
My second reason for using this software is that it backs up your family tree including all the photos and documents that you have imported into it. It backs them up to Ancestry.com's servers. Thus providing a very secure back up of your precious family tree and genealogical information. Another great thing is that if your computer ever crashes and or is stolen you can always just install Family Tree Maker on any computer. Log in to ancestry.com using the software and it will ask you to sync your existing family tree that is on Ancestry.com. Once you do this it will download your family tree along with any images and or documents. You may think to yourself that you don't want your family tree out there available to everyone, don't worry. You can always log in to Ancestry.com go to your family tree and select "Tree Pages" then "Tree Settings" and there you can make your family tree private and also select the option for them to not index it. Remember your data and your family tree is yours and you decide if you share or not. Ancestry does not own your data and they do not "steal" it as I have heard some people say. Now, people are careless and don't take the time to learn their options that is another different thing.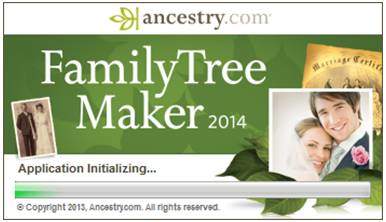 https://www.mackiev.com/ftm/index.html
Other Benefits of the Software that I Learned
The following are some of the features that the software had that will make your research easier and that I have totally fallen in love with.
The Plan Tab
What I love about FMT is that it lets you create tasks for individuals. Have you ever entered something into your program thinking I'll research that later to only forget about it and never revisit it? We with FTM you can set up tasks for individuals. I always like to set them up. For example, if I run across a death for marriage, death, etc.. I enter it and also set up a task for me to look for the original document. Once I enter it you can easily see what task needs to be done under the Plan Tab that is located to your top left-hand corner. I currently have 592 tasks of documents that I need to obtain and transcribe about my ancestors. Imagine trying to keep track of that manually and or by memory.
The Places Tab
This tab will easily provide you with a map of the addresses that you have entered into your program. It is also perfect for when you are doing research and want to find out what other towns are near where your ancestors were from. I have found it very useful that you don't have to leave the program to see maps.
The Publish Tab
This is an awesome feature that is provided by the software. This feature will let you print into book or make charts with the information that you have entered into FTM. I talk about it since many people think that they have to write a book by hand and or make charts manually and that is not the case. Utilize this program to help you out.
You Can print:
Pedigree Charts
Descendant Charts
Relationship Charts
Hourglass Chart
Vertical Pedigree Chart
Horizontal Hourglass Chart
Bow Tie Chart
Family Tree Chart
Extended Family Chart
Fan Chart
This is the feature that you will use time and time again to share your family tree. I personally print a PDF ancestor chart and trade with other researchers. In the next post, I will provide you with the Importance of Creating Genealogical Reports and or Books then after that, I will write a post about how to specifically do it using FTM.
Web Search
The other feature that I love about this software is that you can browse ancestry.com, Rootsweb.com, Google.com, Yahoo.com, and Bing.com form within the browser. I personally love to browse Ancestry.com since you can merge information found there straight into your browser. Just be careful as to how the citations are made since when the program creates one it lacks vital information but it will let you edit and you can always copy and paste to serve your needs.
Customized View
A very powerful feature that I discovered is that FTM will let you make custom data fields many of them are premade and you just chose to add them. Towards the bottom right-hand corner you will find a button labeled "Customize View". That button will let you add any imaginable data field and or will let you make your own. For example, I have not been collecting race nor ethnic information but that is something that this program lets me add. Also if you click on the person tab for a particular ancestor you can add any imaginable detail from there.
Finally, this is why I use Family Tree Maker. It is a very powerful tool but you do need to take the time to learn it's value. If you are interested in buying it you can do so here: https://www.mackiev.com/ftm/index.html. If you buy it and have questions about it let me know I can help you get started on how to use it.
This coming Sunday I will publish a post titled "Creating Genealogy Reports and or Books" where I will explain the importance of doing them and how they can benefit you on your research. Be on the lookout for this post.