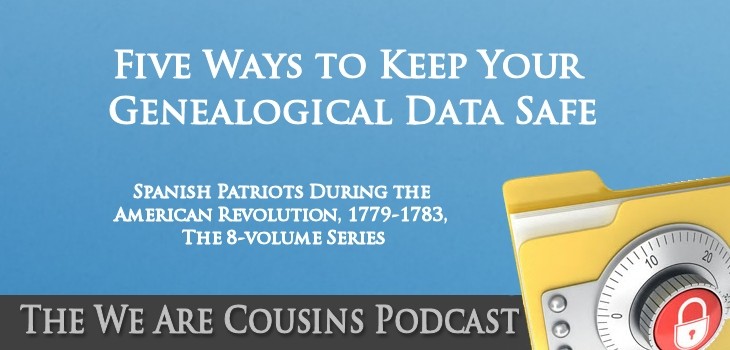 Play Podcast:
Podcast: Play in new window | Download | Embed
Subscribe: RSS
Summary:
In this episode Moises talks about five ways to keep your genealogical data safe, the We Are Cousins community, WorldCat.org, new commenting system at We Are Cousins blog, Find a Grave, and the Spanish Patriots eight volume book series.

Show Notes:
This is session number 13
Today I am going to talk to you about the Five Ways to Keep Your Genealogical Data Safe.
Send us your questions or comments to [email protected].
Book Review at Amazon for Mexican Genealogy Research Online: A Guide to Help You Discover Your Mexican Ancestry
Mahuizoh
 "Lots of information of resources and reference tools. Highly recommend it.."
Link to Amazon eBook:
http://www.amazon.com/gp/product/B00F8YGEEO/ref=as_li_tl?ie=UTF8&camp=1789&creative=390957&creativeASIN=B00F8YGEEO&linkCode=as2&tag=wearco-20
Help support this podcast by buying any of my eBooks located on the books tab. Thank you in advance I really appreciate you. If you have already purchased one thank you so much you make this podcast possible.
Leave a review on iTunes and Stitcher it will only take a minute.
Topics
1.Listener Question
I inherited my grandfather's journal (Juan Crisantes Hinojosa of Corpus Christi, TX, 1918-1998) from my father recently. He thought that I would take care of it and enjoy it, and he's right!! My grandpa recorded baptisms, marriages, confirmations, military service, and even people he loaned money out to. The last entry he entered was in 1979, when my grandmother (his wife) died. There are a lot of names of people in here that I don't recognize (I believe they were family friends). My question is….what would be the best way to put this journal "out there" on the internet? Someone else (besides me) may benefit from it and find something useful. I don't have an Ancestry.com account, but am on MyHeritage. – Michelle
Moises, I would follow Terry's recommendation and in the future if you believe that your children will not appreciate this treasure then I would follow Elisa's recommendation of donating it to your local university where it will be safeguarded. I live in Mission Texas, and can digitize it for you if you need help. AIso if you ever want to share bits and pieces of it you can always make a guest post for We Are Cousins or post it in the we are cousin's community.
Terry, "have the entire book scanned into pdf pages–staples can do this. Then buy an archival quality box and store it in a cool dry place. Keep the electronic copy to look over as needed."
Elisa "Just an idea… donated it to the university, the will give you a digitized copy for you and it will be shared with other researchers. They will archive it and keep it safe."
Join the We Are Cousins Community
490 members at this moment, like minded individuals, researchers, and just interesting people to interact with.
https://www.facebook.com/groups/wacgroup/
What's new at we are cousins Blog?
Changes that I have made:
Disqus commenting system and also related posts where changed.
What's new at Family Search in regards to south Texas and northeastern Mexico genealogical records?
No updates to neither South Texas nor Northeastern Mexico Collections.
This week's Tool
WorldCat.com – Find the books you need near you
This Weeks Online Resource
Find A Grave – Millions of Cemetery Records
Not everything has been indexed.
This week's book
Spanish Patriots During the American Revolution, 1779-1783, The 8-volume Series
Volume One and Two are for California Patriots, Volume three Arizona, Volume four New Mexico, Volume Five Texas, Volume six Louisiana, Volume Seven Spanish, French, Dutch, and American, and finally Volume eight Spain's Patriots of Northwestern New Spain
http://www.wearecousins.info/2014/03/spanish-patriots-during-the-american-revolution-1779-1783-the-8-volume-series/
Upcoming Genealogical Conferences and Local Society Meetings
Conference
35th Annual Texas Hispanic Genealogical and Historical Conference September 25-27
Website: www.southtexasgenealogy.org – Thank You Ofelia Olson for the link.
Local Society Meetings
The Rio Grande Valley Hispanic Genealogical Society meets every 3rd Sunday of the month.
https://www.facebook.com/RGVHGS
The Nuevo Santander Genealogical Society met this past Saturday and their guest speaker was JOHN R CAMPBELL
https://www.facebook.com/pages/Zapata-County-Museum-of-History/233797880031631
Five Ways to Keep Your Genealogy Data Safe.
Why is it important?
Five Ways to Back up Your Genealogical Data
USB Stick – Easy Cheap Way
Internal Hard Drive on your computer – Need expert to install
External Hardrive – Well worth the investment
CD/DVD's –
Online Services – DropBox, Box, etc…
Leave us a review at iTunes, and stitcher thanks beforehand.
Help support this podcast by buying any of my eBooks located on the books tab. Thank you in advance I really appreciate you.
Hope that you had fun and until next time, God bless.