This is the marriage of my wife's 3rd great grandparents Jose Antonio Garcia and Maria Juana Villarreal whom got married in Monterrey, Nuevo Leon, Mexico back in May 27, 1822.
The information needed to locate this record, and break a brick wall, was was provided by Jose G. Muguerza Jr. whom kindly did research on my wife's family for me. I am very thankful to have meet him at the state conference in Corpus Cristi, Texas.
This record indicates that the parents of Jose Antonio are Francisco Garcia and Juana Maria Guajardo. The parents of Maria Juana Villarreal are listed as Jose de Jesus Villarreal and Maria Josefa de la Garza.
It is interesting to note that both of them are listed as being form El Topo de Los Ayalas, a location that at one point was property or my ancestors so I am very interested to see if this branch of her family is also related to mine.
Cut out of Original Image: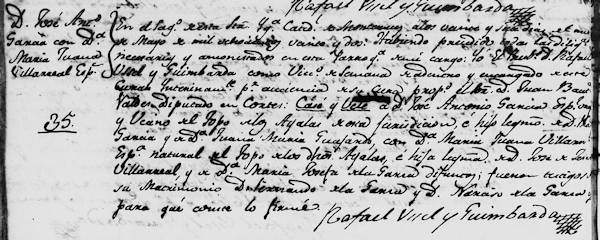 View Original Image at FamilySearch.org
Transcription of marriage image:
D. Jose Anto. Garcia con Da. Maria Juana Villarreal Esps.
En la Sago. de esta Sta. Yga. Catedl. de Monterrey a los veinte y siete dias del mes de Mayo de mil ochocientos veinte y dos: Habiendo presedido en dos las Diligas. necesarias y amonestados en esta Parroqa. ami cargo: Yo el Bicaro. D Rafel Ussel y Guimbanda como Vicco. de Semana de [?] y encargado de este Curato Ynterinamte. pr. ausencia de su cura propo. el Sr. D. Juan Bauta. Valdes Diputado con Cortes: Case y Vele a D. Jose Antonio Garcia espl. orig y Vecino del Topo de los Ayalas de esta jurisdiccion, e hijo legmo. de D. Frac. Garcia y de Da. Juana Maria Guajardo, con Da. Maria Juana Villarreal Espa. natural del Topo de los Ayalas, e hija legma. de D. Jose de Jesus Villarreal, y de Da. Maria Josefa de la Garza Difuntos; fueron testigos de su matrimonio D. Bernardo de la Garza y D. Nasario de al Garza y para que conste lo firme.
Rafael Ussed y Guimbarda
Sources:
Jose G. MuguerzaJr., Genealogia de Clarissa Iris Perez (Lincoln, Texas, Self Published, 11-28-2016), Personal Archives of Moises Garza, Pg. 47.
"México, Nuevo León, registros parroquiales, 1667-1981," database with images, FamilySearch (https://familysearch.org/ark:/61903/3:1:9Q97-YS24-XD?cc=1473204&wc=3PMN-JWT%3A45389701%2C45389702%2C46718101 : 21 May 2014), Monterrey > Catedral > image 357 of 706; Parroquias de la Iglesia Católica, Nuevo León (Catholic Church parishes, Nuevo León).