This is the August 26, 1756 death record of my 8th great grandmother Maria Josepha Leal, She died in what is now days Monterrey, Nuevo Leon, Mexico. This document indicates that she was the widow of Captain Joseph Treviño.
Through other sources we know that her parents were Antonio Leal de Leon and Juana Josefa Gonzalez Hidalgo. The parents of her husband Joseph de Treviño are Juan de Treviño and Ana de Maya.
Cut out of Original Image: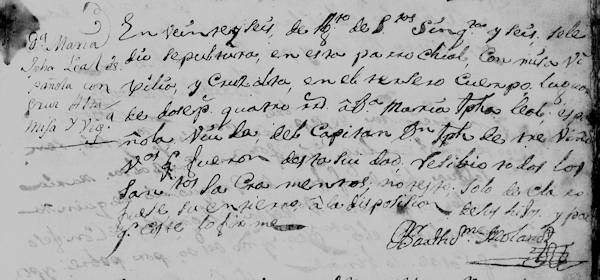 View Original Image at FamilySearch.org
Transcription of death image:
Da, Maria Jpha Leal española con crus Alta – misa y Viga.
En veinte y seis de Agto. de Stos. Sinqta. y seis; sele
dio sepultura; en esta parrochial, Con misa Vi-
gilia, y Cruz alta, en el tercero Cuerpo; lugar
de dose pc. quatro rel, a Da. Maria Jpha Leal; espa-
ñola. Viuda, del Capitan Dn. Jph de Tre Viño
Vos. qe. fueron desta Sui dad; recivio todos los
Sactos. Sa Cra mentos; no testo; solo de Claro.
fuese su entierro; a la disposision de sus hijos. y por
q. conste lo firme –
Barthme. Molano
Sources:
"México, Nuevo León, registros parroquiales, 1667-1981," database with images, FamilySearch (https://familysearch.org/pal:/MM9.3.1/TH-1-159379-648433-80?cc=1473204 : 21 May 2014), Monterrey > Catedral > Defunciones 1752-1794 > image 42 of 605; Parroquias de la Iglesia Católica, Nuevo León (Catholic Church parishes, Nuevo León).
Guillermo Garmendia Leal, Alonso de Leon Sus Descendientes (Monterrey, N.L. Mexico, Guillermo Garmendia Leal, July 1993), University of Texas Rio Grande Valley, Edinburg, Texas., Part 2 Pg. 15.