I was very fortunate to be able to attend the 37th Annual Texas Hispanic Genealogical and Historical Conference. A few years ago I attended the 35th Annual Conference in McAllen Texas and I was hooked. Last year it was in Laredo and loved it even more. Now so far, this is my opinion, I loved the one that I just attended in Corpus Christy even more. I think that it was because I meet the most people and made more connections than ever before.
This is post one of three.
Before I go further lets's start at the beginning. It took me about three days to prepare everything for the conference. I even did a one day delivery for 100 name tags from Amazon, since members of the We Are Cousins Facebook Group wanted a way to be able to identify each other. Ok I am getting side tracked here, well actually they were not full days but my evenings. Special thanks to my wife Clarissa Iris Garza for making an exception and letting me use family time to get ready. Anyways, Mario Davila was my ride to the conference and I got lucky that he sent his son to pick up all my boxes full of books.
We headed out very early on October the 6th and at the border patrol check point Mario asked the officer for the best location to a hve breakfast in Falfurrias. He promptly responded with AJ's on frontage rd. Turns out there was no AJ's but we found el "Restaurante Jalisco". Food and service was great, we had the $3.00 special. After a full belly we headed out again and on our way form Falfurrias to Riviera we saw something incredible. An eagle swooped down in front of us and picked up a mouse in the middle of the road.
We made it to the library in Corpus at around 10:00 am and was surprised to see a very familiar face. It was a long time friend and member of Las Villas del Rote Ray Ramirez. Turns out that he drove in to the city a day prior to do research and was back at the library researching again.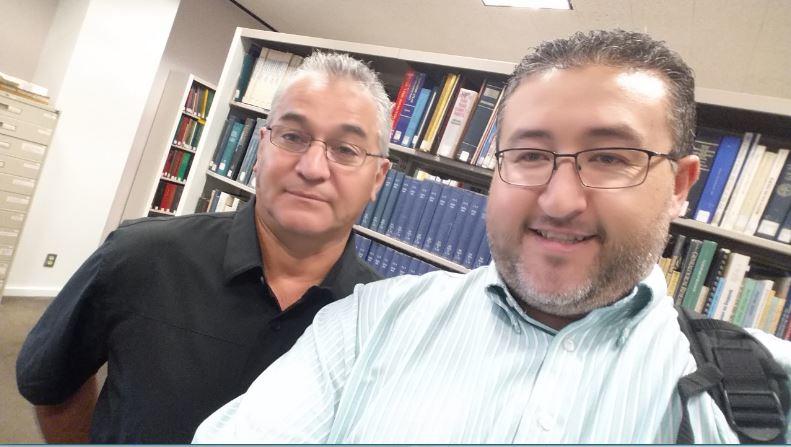 After a few hours we left to the hotel and boy did I get busy fast. I thought that I was just going to set up our vendor table and have some down time. Familiar faces keep coming and going all afternoon. It took us a good hour and half to set up after we had gotten all of our boxes down. It was during this time that Crispin Rendon arrived, we briefly spoke about the DNA project and decided that it would be great if we were allowed to record it. I told him that I would inquire so we could share it with every member of the project. More on the project on part 3 of this series.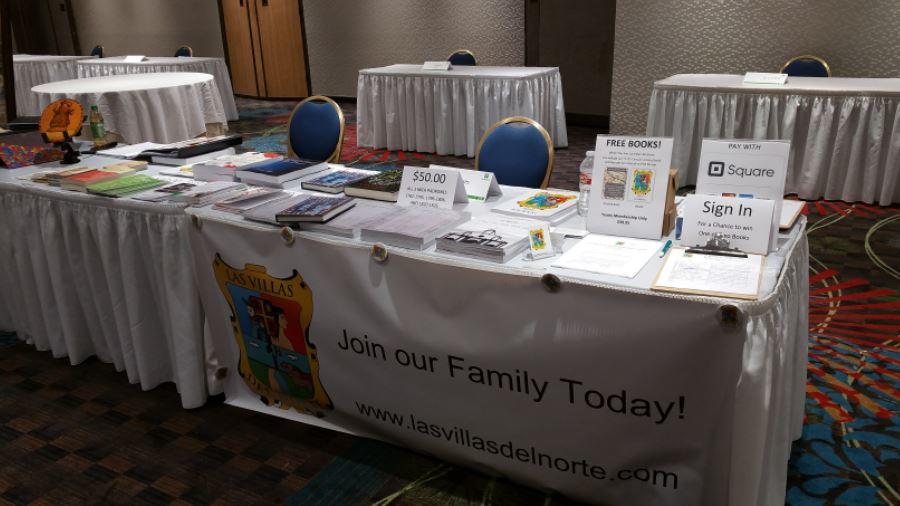 The above picture shows our final set up.
Time flied and then we found ourselves having a wonderful dinner with friends at the next door dinner whose name I have forgotten.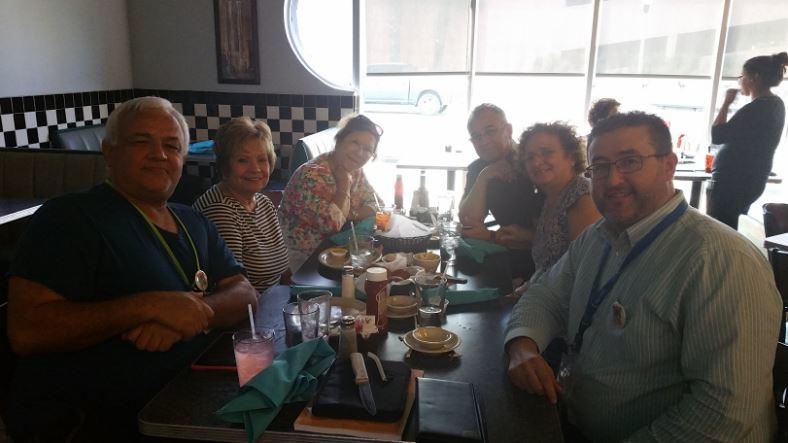 Had a wonderful dinner with Mario Davila Josie Treviño, Mickey Garcia, Ray Ramirez, and Marie Therese Hernandez.
After having dinner we went back to the hotel to socialize with attendees. Got our room and went up to have a quick rest.
At about 7:00 PM SAGA had a Social Mixer next to the pool area. It was during this social that SAGA gave me permission to record the "We Are Cousins DNA Project" presentation by Crispin Rendon and me, more on that later. The food was great and entertainment was even better. you can see a short video here of our entertainment:
https://www.facebook.com/moisesgarza/videos/10202545964087933/?permPage=1
This is it for part one. Tomorrow I will make part 2 and on Saturday I will publish the last part.