This is the 1792 baptism of my fourth great grandfather Jose Pablo Tamez in Santiago, Nuevo Leon, Mexico. This document clearly indicates that his parents were Juan Angel Tamez and Anna Maria Leal.
His godparents are listed as Antonio Leal and Guadaluphe Leal. This document indicates that he was eight days old when baptized. Using this information one can determine that he was born on 16 Jan 1792.
Jose Pablo Tamez grows up to marry Maria Ygnacia Cavazos on May 8, 1811 and if interested you can see their marriage record here: Pablo Tamez Leal and Maria Ygnacia Cavasos Garcia, 1811 Church Marriage Santiago, Nuevo Leon, Mexico
Cut out of Original Image: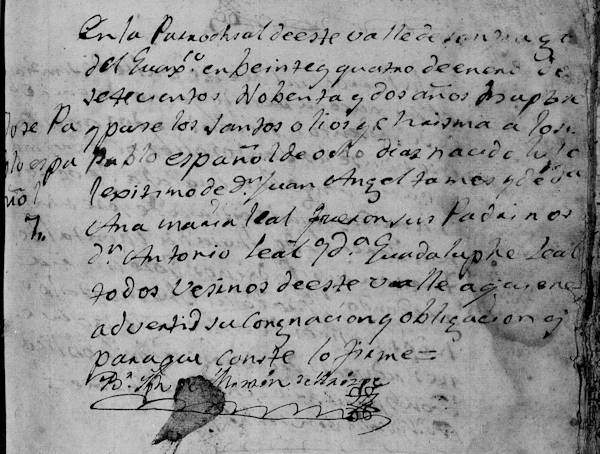 View Original Image at FamilySearch.org
Transcription of baptism Image:
Jose Pablo español
En la Parrochial deeste valle de Santiago del Guaxco. en beinte y quatro de eneto de setecientos Nobenta y dos años baptise u puse los Santos olios y chirsma a Jose Pablo español de ocho dias nacido. hijo lexitimo de Dn. Juan Angel Tamez y de Da. Ana Maria Leal fueron sus Padrinos Dn. Antonio Leal y Da. Guadaluphe Leal todos vesinos deeste valle a quienes adverti su congnacion y obligacion y para que conste lo firme =
Br. Jph Martin de Arizpe
Sources:
FamilySearch: Mexico, Nuevo León, Catholic Church Records, 1667-1981, "México, Nuevo León, registros parroquiales, 1667-1981," database with images, FamilySearch (https://familysearch.org/pal:/MM9.3.1/TH-1-159380-44161-65?cc=1473204 : 21 May 2014), Santiago > Santiago Apóstol > Bautismos 1745-1796 > image 383 of 458; Parroquias de la Iglesia Católica, Nuevo León (Catholic Church parishes, Nuevo León).
Crispin Rendon, Families of Santiago, Nuevo Leon, Mexico Volume Two (3430 Bahia Place, Riverside, CA 92507, Self Published, August 2012), Personal Archives of Moises Garza, Pg. 63 and 64.