The following is the 1811 Church marriage of my 4th great grandparents Pablo Tamez Leal and Maria Ygnacia Cavasos Garcia. They got married in Santiago, Nuevo Leon, Mexico. Pablo's parents are listed as Juan Angel Tamez and Anna Maria Leal. Juan was listed as diseased. The parents of Maria Ygnacia are listed as Esteban Cavazos and Juana Francisca Garcia. Both of them are also listed as being from "Hacienda de los Rodriguez".
Cut out of original image: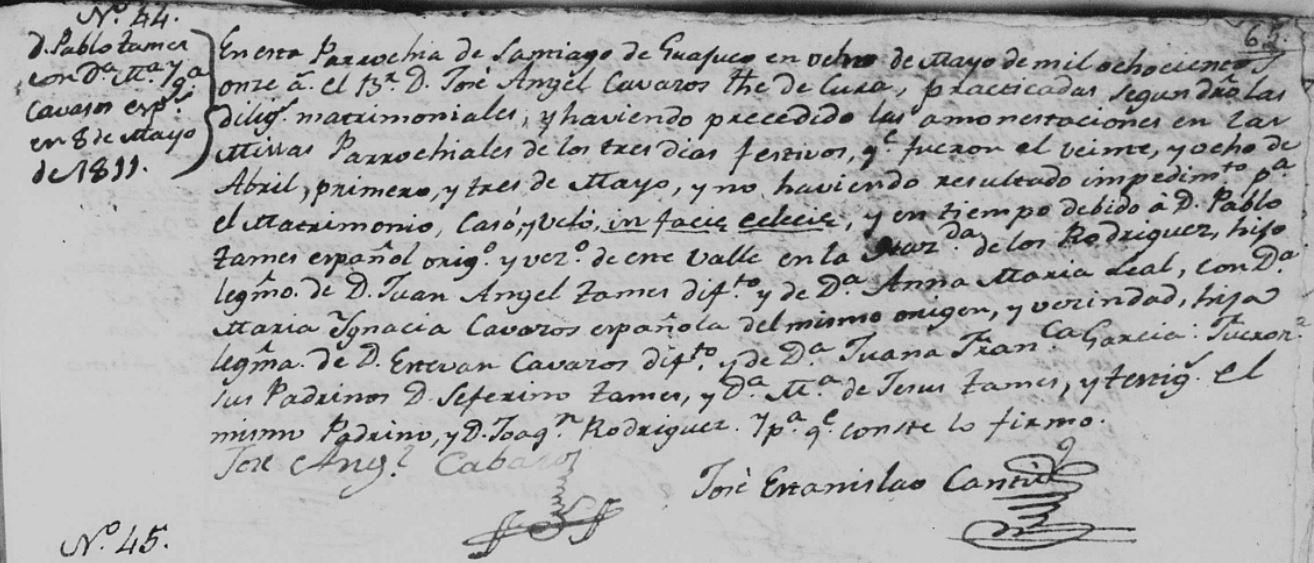 See Original at FamilySearch
Transcript of above image:
 No. 44 D. Pablo Tames con Da. Ma. Yga. Cavasos espls. en 8 de Mayo de 1811

En esta Parrochia de Santiago de Guajuco en ocho de Mayo de Mil ochocientos y once a. el Br. D. Jose Angel Cavazos este de Cura, practicadas sengun [?] las Diligs. matrimoniales, y haviendo procedido las amonestaciones en castisas Parroquiales de lso tres Dias festivos, qe. fueron el veinte, y ocho de Abril, primero, y ttres de Mayo, y no haviendo resultado impedimto. pa. el Matrimonio, Caso y Velo, infacie eclecie, y en tiempo debido a D. Pablo Tames espanol origo. y vezo. de este valle en la Hazda. de los Rodriguez, hijo legmo. de D. Juan Angel Tames difto. y Da. Anna Maria Leal, con Da. Maria Ygnacia Cavazos espanola del mismo origen, y vecindad, hija legma. de D. Esteban Cavazos Difto. y de Da. Juana Franca. Garcia: Fueron sus Padrinos D. Seferino Tamez, y Da. Ma. de Jesus Tamez, y testigs. el mismo Padrino, y D. Juaqn. Rodriguez. Y pa. qe. conste lo firmo.

Jose Estanislao Cantu
Source:
Crispin Rendon, Families of Santiago, Nuevo Leon, Mexico Volume Two (3430 Bahia Place, Riverside, CA 92507, Self Published, August 2012), Personal Archives of Moises Garza, Pg. 63 and 64.
FamilySearch: Mexico, Catholic Church Records (FamilySearch), "México, Nuevo León, registros parroquiales, 1667-1981," database with images, FamilySearch (https://familysearch.org/pal:/MM9.3.1/TH-1-18955-33272-23?cc=1473204 : 21 May 2014), Santiago > Santiago Apóstol > Matrimonios 1797-1841 > image 70 of 490; Parroquias de la Iglesia Católica, Nuevo León (Catholic Church parishes, Nuevo León).