This is the baptism January 20, 1783 baptism of my of 4th great grandmother Maria Barbara Rios in Montemorelos, Nuevo Leon, Mexico. This baptism record indicates that she was one month and one day old when she was baptized. Using the birthday calculator of my genealogy software I determined that she was born on Friday December 20, 1782.
Maria Barbara ends up marrying Jose Lorenzo Lopez in Cerralvo and they end up having nine children of which I am a descendant of three of them.
Cut out of Original Image: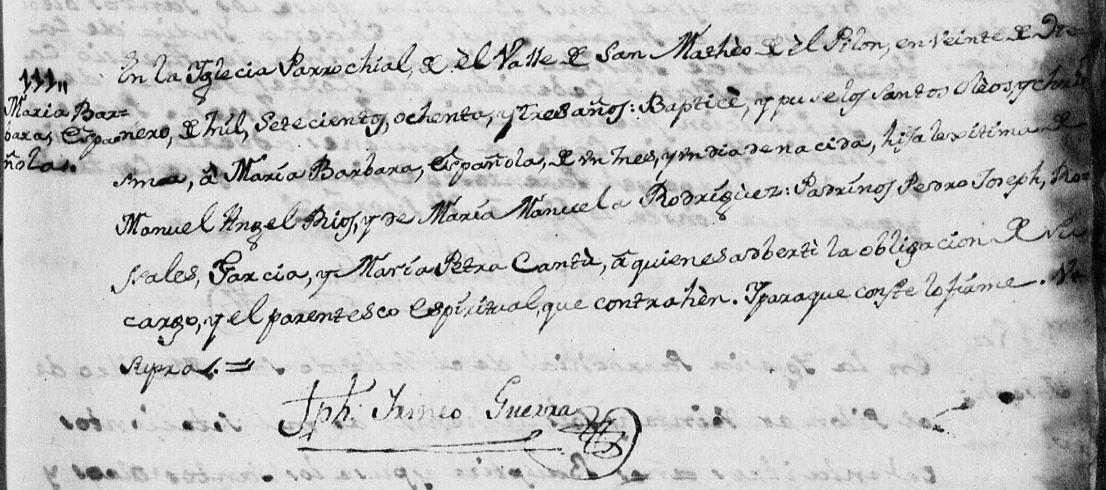 View Original Image at FamilySearch.org
Transcription of baptism Image:
111,, Maria Barbara Española
En la Yglecia Parrochial, de el Valle de San MAtheo de el Pilo, en veinte de Henero, de mil, setecientos, ochenta, tres años: Baptice, y puse los Santos Oleos, y chrismas, a Maria Barbara, española, de un mes, y un dia de nacida, hija lexitima de Manuel Angel Rios, y de Maria MAnuela Rodriguez: Padrinos [?] Joseph, Rossales, Garcia, y Maria Petra Cantu, a quienes adberi la obligacion de Su cargo, y el parentesco espiritual, que contrahen. Y paraque conste lo firme. Ut Supra. =
Jph: Yrineo Guerra
Sources:
"México, Nuevo León, registros parroquiales, 1667-1981," database with images, FamilySearch (https://familysearch.org/pal:/MM9.3.1/TH-1-159382-44725-85?cc=1473204 : 21 May 2014), Montemorelos > San Mateo > Bautismos 1773-1794 > image 231 of 564; Parroquias de la Iglesia Católica, Nuevo León (Catholic Church parishes, Nuevo León).