This is 12-29-1716 baptism of my 6th great grandmother Maria Josepha de Alanis in Monterrey, Nuevo Leon, Mexico. This document indicates that her parents are Lorenzo de Alanis and Faviana Rodriguez. Her godparents were Antonio de Olivares and Ana Rodriguez.
Maria grows up to marry Nicolas Marroquin in October 17, 1734 the son of Nicolas Marroquin and Francisca Montemayor Rodriguez.
Cut out of Original Image: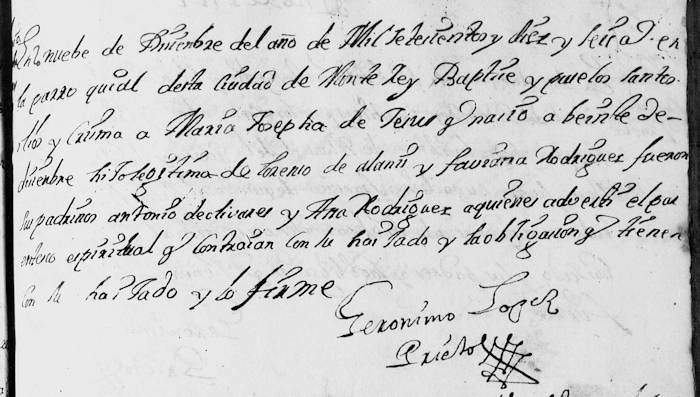 View Original Image at FamilySearch.org
Transcription of baptism Image:
[?]ia [?]pa [?]
En 20 nuebe de Diciembre del año de Mil setecientos y diez y seis as. en la parro quial desta ciudad de Monte Rey Baptise y puse Sanots. oleos y Crisma a Maria Josepha de Jesus q nacio a beinte de diciembre hijo legitima de Lorenzo de Alanis y Faviana Rodriguez fueron sus padrinos Antonio de Olivares y Ana Rodriguez a quienes adverti el parentesco espiritual q. Contraian Con Su haijado y la obligacion q tienen con su haijado y lo firme
Geronimo Lopez Prieto
Sources:
"México, Nuevo León, registros parroquiales, 1667-1981," database with images, FamilySearch (https://familysearch.org/pal:/MM9.3.1/TH-1-159380-30715-72?cc=1473204 : 21 May 2014), Monterrey > Catedral > Bautismos 1668-1731 > image 368 of 551; Parroquias de la Iglesia Católica, Nuevo León (Catholic Church parishes, Nuevo León).