This is the 1697 church death record of my 9th great grandfather Miguel de la Garza Falcon, he died in Monterrey, Nuevo Leon, Mexico. He died on October 28, 1697.
This record only mentions that he was a widow but does not provide any additional information as to whom his wife was or whom his parents were. fortunate for us other researchers have already done the research and have identified this information.
Tomas Mendirichaga the author of Origen de los appellidos Garza y Trevino en Nuevo Leon, on page 28 mentions Miguel was married to Gertrudis de Renteria the daughter of Sargento Mayor Jacinto Garcia de Sepilveda and Clara de Renteria. He also mentions that he had the following children: Jacinto, Juana, Julian, Leonor, Clara Micarla, Antonio, Miguel, Maria , Beatriz, Felix, Juan, Pablo and Manuel. He references his will made on may 8, 1694.
His parents were Blas de la Garza and Beatriz Gonzalez Hidalgo.
Cut out of Original Image: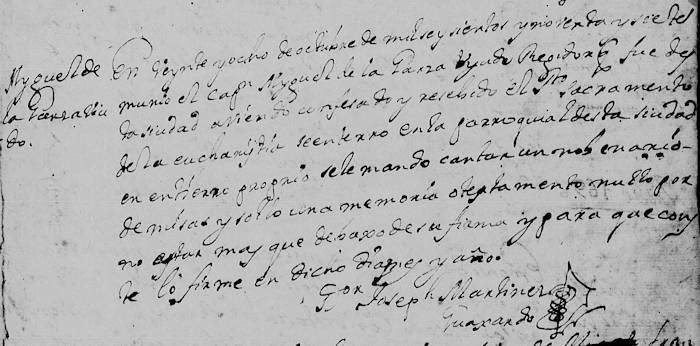 View Original Image at FamilySearch.org
Transcription of death image:
Miguel de al Garza viudo
En veintey ocho de octubre de milseysientos y noventa y siete murio el capn Miguel de la Garza viudo Regidor qe fue de esta siudad aviendo confesado y resebido el Sto sacramento de la eucharistia seenterro enla parroquial de esta siudad en entierro propio sele mando cantar un nobenario de misas y sol lo una memoria o testamento nullo por no estar mas que debaxo de su firma y para que conste lo firme en dicho dia mes y año
Don Joseph Martinez Guajardo
Sources:
"México, Nuevo León, registros parroquiales, 1667-1981," database with images, FamilySearch (https://familysearch.org/pal:/MM9.3.1/TH-1-159380-55425-65?cc=1473204 : 21 May 2014), Monterrey > Catedral > Defunciones 1668-1752 > image 64 of 368; Parroquias de la Iglesia Católica, Nuevo León (Catholic Church parishes, Nuevo León).
Mendirichaga, Tomas, Origen de los appellidos Garza y Trevino en Nuevo Leon, Origen de los appellidos Garza y Trevino en Nuevo Leon Pg. 28.
Crispin D Rendon, Crispin D. Rendon – Ancestor Book for Moises Garza (3430 Bahia Place, Riverside, CA 92507, Crispin D Rendon, February 9, 2014), Personal Archives of Moises Garza, Pg. 121.