Juan Jesus de Leon has published another free eBook about the Leal and De leon. It is titled "Matrimonios de Cadereyta Jimenez, N. L. 1896 – 1905 Personas con Apellido Leal y de Leon". Make sure to download it to your computer and save your own copy because nothing on the internet last for ever.
Short introduction by Juan Jesus de Leon:
Matrimonios de Cadereyta Jimenez Nuevo Leon
Leal – De Leon 1896 – 1905
Film # 605373
Fuente : Familysearch.org
Esta lista se conforma por nombres de personas con los apellidos Leal y De Leon contrayendo matrimonio entre los años de 1896 a 1905
Incluye los nombres con apellidos de los contrayentes,nombres de ambos padres nombre de los padrinos, En algunos casos habra informacion faltante debido a la lectura no legible del film de donde se extrajo dicha informacion.
El trabajo en mi interpretacion es basado en lo que leo y entiendo sin tener una educacion formal en Genealogia o Paleografia .
Esta lista no es 100 % correcta debido a que puede contener errores, para sugerencias o correcciones por favor mandar un correo a : [email protected]
Por Juan Jesus De Leon Arroyo
5 Mayo 2016
Houston Texas
eBook Cover: Matrimonios de Cadereyta Jimenez N. L. 1896 – 1905 Personas con Apellido Leal y de Leon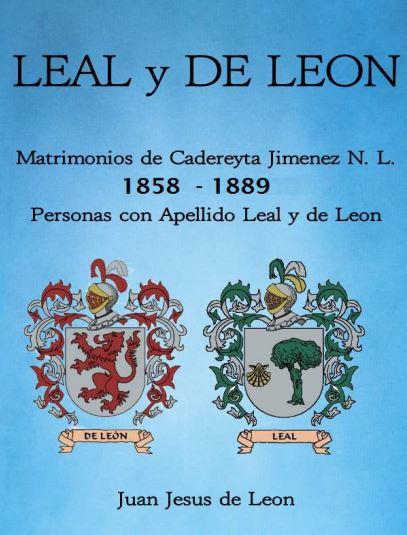 This eBook as well as all others by Juan have been added to the project page that I created for him at We Are Cousins you can find them here The Leal and De Leon Project.
Join the Conversation
Meet and greet Juan de leon on his Facebook group at Los Leal De Leon 1600's -2000's Descendientes del Capitan Alonso De Leon