This is the 1668 death record of my 9th great grandfather Gregorio Fernandez de Tijerina in Monterrey, Nuevo Leon, Mexico. He died July 5, 1668 and his wife was Breatriz Gonzalez Hidalgo the daughter of Blas de la Garza and Beatriz Gonzalez Hidalgo. As for Gregorio I still have not been able to find whom his parents might have had been. If you have them and have a source for them please let me know. If you are a descendant of his please email me your direct line to him and i'll email you mine back. That way we can add each other to our family trees.
Cut out of Original Image: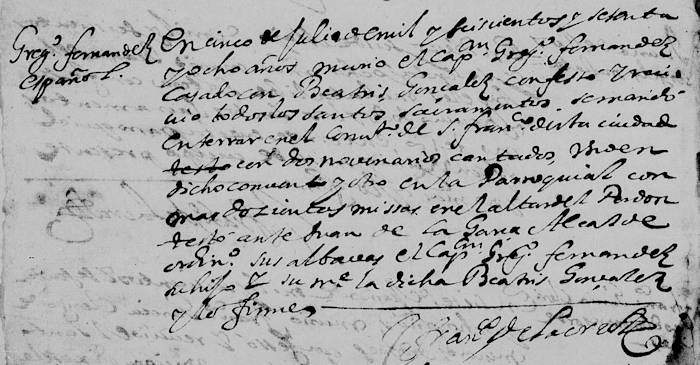 View Original Image at FamilySearch.org
Transcription of death image:
Grego. Fernandez espanol
En cinco de Julio de mil y seiscientos y sesenta y ocho anos murio el Capan. Grego. Fernandez Casado con Beatris Gonsalez confesso. y recibio todos los santos sacramentos. se mando enterrar en el Convto. S. Francisco de esta ciudad testo con dos novenarios cantados, uno en dicho convento y otro en la Parroquial con mas dozientas missas. en el altar del Perdon testo ante Juan de la Garza Alcalde ordino. Sus albaceas el Cpan. Grego fernandez su hijo y su Me. la dicha Beatris Gonsalez y lo firme. –
Franco. de Lacruz
Sources:
FamilySearch: Mexico, Catholic Church Records (FamilySearch), Gregorio Fernandez de Tijerina Death Record FamilySearch, Monteery, N.L. 1668 Pg6.JPG. https://familysearch.org/ark:/61903/3:1:9Q97-YS2S-9Z6?mode=g&i=5&wc=3PML-92S%3A45389701%2C45389702%2C46366701%3Fcc%3D1473204&cc=1473204.