In this post, you can download and read more about Crispin Rendon's eBook Families of Lampazos, Nuevo Leon, Mexico Volume One.
I was glad to receive Crispin's email yesterday, it didn't just contain another awesome eBook from him but also an invite to join the We Are Cousins DNA project. In this post I will provide you with Crispin's email and also give you a short description of the We Are Cousins DNA Project.
This month's ebook by Crispin Rendon is about the families of Lampazos de Naranjo, Nuevo Leon, Mexico and it is volume one. So I am assuming that we can expect more volumes from Crispin in the future.
Description of eBook by Crispin
Volume one of five in this series contains marriage information from the first 500 marriage records found on film 605576 (matrimonios 1729-1867). These marriages occurred in the time span of March 14, 1729 to June 6, 1781. These marriages are found on images 5-123. Basic information from the marriage records is presented along with other information gathered in an attempt to present two generation descendant reports. Most of the non-marriage record information presented was gathered using the FamilySearch.org database index.
Below you can download the eBook or you can just click on the eBook cover image to download your copy.
Cover of eBook: Families of Lampazos, Nuevo Leon, Mexico Volume One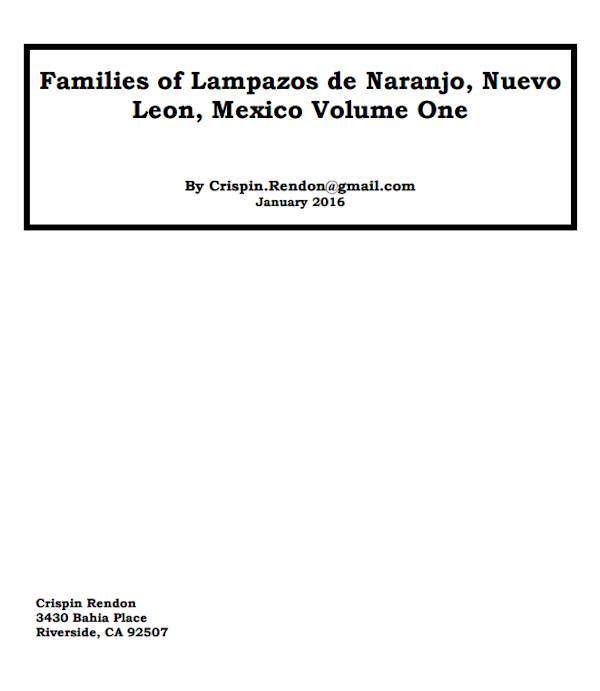 Email from Crispin Rendon:
I have posted another free online ebook.
Families of Lampazos, Nuevo Leon, Mexico Volume One
A new DNA project started this year. If you have already tested either YDNA or MtDNA with FamilyTreeDNA please consider joining.  This project is for anyone in our kindred group with ancestors from the Mexican States of Coahuila, Nuevo Leon or Tamaulipas. It is free and easy to join if you can remember you Kit number and password. Here is a link to the site. To join, click on the red button.
We Are Cousins DNA Project
Thank you all for your support.
Best Regards,
Crispin Rendon
The We Are Cousins DNA Project
You can read more about the project here: http://www.wearecousins.info/dna
The gist of the project is basically: The We Are Cousins DNA Project is for anyone interested in Y-DNA and mtDNA research whose paternal and maternal roots are from the States of Nuevo Leon, Tamaulipas, Coahuila, and South Texas. Our main goal is to identify the DNA for every last name found in South Texas and Northeastern Mexico and identify different DNA lineages for any given last name.
Make sure to download the eBook ASAP since you never know for how long it will be available. Even if you don't have relatives in that area make sure to get your own copy, you never know when you will be needing it. Let me know in the comment what you think about this eBook.
View This Post for other eBooks in This Series of Families of Lampazos