This book contains the church censuses (Padrones) for Revilla (Guerrero Viejo) for the years 1780, 1791, 1804, 1818, and 1825. These years were chosen by purpose since they are the most legible and complete years. Almost all the other years are either missing or are out of order and incomplete.
If your ancestors are from Revilla, (Guerrero Viejo) you will find this book to be very useful. Out of the above mentioned years my favorite one is the 1791 census since the priest wrote it in a different format than the rest and it includes the occupations of the head of household. We find shoe makers, black smiths, and the most common one of rancher among many other occupations. It also indicates the persons racial designation thus providing us more clues as to weather our ancestors may have had been native american or had black ancestry. It also provides a great example of the diversity of the households when it comes to extended families living in the same household.
This book helped me break two genealogical brick walls. It provided the evidence that I needed to find the parents of both of my 5th great grandparents Joseph Luis Trevino and Maria Estefana de Lizarraras y Cuellar.
This is the cover of the book: Censuses (Padrones) of Revilla 1780, 1791, 1804, 1819, 1825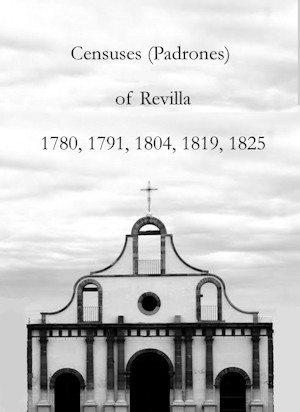 This book is $39.99 at Amazon BUY NOW
Description of This Book:
This book holds the 1780, 1791, 1804, 1819, and the 1825 Church Padrones (Censuses) for Revilla. Revilla was founded with the name of San Ignacio de Loyola de Revilla and later on it was shortened to Revilla. Eventually it was named Guerrero and after the construction of the international Falcom Dam the people where relocated to present day Ciudad Guerrero. Now days people refer to Revilla as Guerrero Viejo, currently under water of the Falcon Dam. It is 152 pages.
Table of Contents:
Acknowledgments i
Introduction Pg 11
1780 Census of Revilla Pg 13
1791 Census of Revilla Pg 26
1804 Census of Revilla Pg 74
1819 Census of Revilla Pg 96
1825 Census of Revilla Pg 121
About the Author Pg 152
I highly recommend this book to everyone whose ancestors were from Revilla and or are currently doing research on Revilla. If you are interested in getting your own copy you can do so at Amazon here is the direct link: Buy This Book
Let me know in the comment section of how this book helped you in your own research.