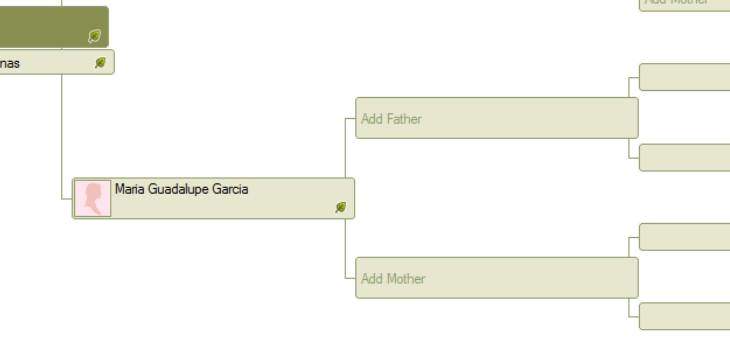 Always follow up on secondary sources and obtain that original document. A while back I got the baptismal date of January 14, 1741 for my 6th great grandmother Maria Guadalupe Garcia. Well today she came up as the next document to obtain. I browsed the Monterrey baptisms and found it fairly quick. As I was transcribing it I noticed that the name on the baptism was not Maria Guadalupe but Maria Gertrudis.
Luckily for me I cite my sources and quickly found where I obtained the information from. After analyzing the book I noticed that a Maria Gertrudis was also named as her sibling with the same baptism date.  I thought that maybe she was a twin and that I needed to look at the previous and next record to locate my ancestors baptism.
Turns out that she was no where to be found. I am assuming that my source has the wrong information. I am fortunate that I decided to not do any research on her parents until I had the document proving her parents were her parents which turned out to not be. I had them listed as Jose Cristobal Garcia and Maria Antonia Garcia.
I had another source listed for her on her marriage date and it was "las Villas del Norte: The Pena Descendancy" by Carol Norquest. She was listed on page 15 so I revisited it once again. Mr. Norquest has her parents listed as Jose Cristobal Garcia and Maria Petrona Cantu. Turns out I already had them through another line and also had another Maria Guadalupe Garcia. I merged the two individuals into one. I also found her baptism date to be 22 Apr 1740 (Source Crispin Rendon) but I still have to look for it. Norquests lists the Index Investigations of Gudalajara and one of Garmendia Leals books as his sources. I checked them both out and the information is solid.
The moral of the story, don't just get dates make sure that you get a copy of the record since sometimes they don't exist and or the information is wrong
Sources:
Guerra, Raul J. Jr., Vasquez, Nadine M., and Vela, Baldomero Jr., Index to the Marriage Investigations of the Diocese of Guadalajara 1751 – 1779 (McAllen, Texas, Munguia Printers, Inc., 1997), University of Texas Pan American, Edinburg, Texas., Pg. 227 #10.
Carrol (Kelly) A Norquest, Jr., Las Villas del Norte: The Pena Descendancy An Interim Report on Secondary Sources Available for Research into the Joseph Antonio Pena Descendancy in Northeast Mexico (1665 – 2001) (Edinburg, Texas U.S.A., Carrol (Kelly) A Norquest, Jr., 2005), pg 15.
Crispin D Rendon, Crispin D. Rendon – Ancestor Book for Moises Garza (3430 Bahia Place, Riverside, CA 92507, Crispin D Rendon, February 9, 2014), Personal Archives of Moises Garza, Pg. 44.