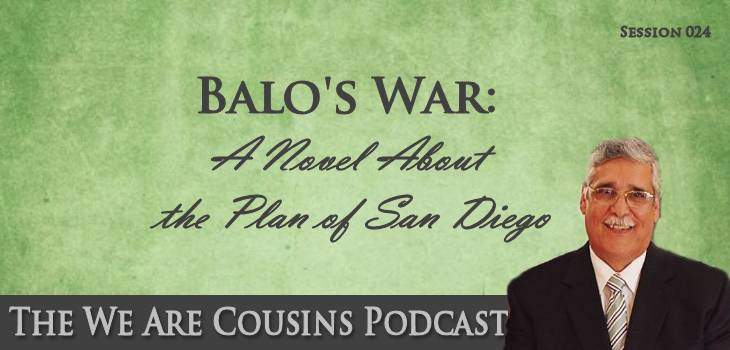 Play Podcast:
Podcast: Play in new window | Download | Embed
Summary:
In this episode Moises talks with Alfredo Cardenas the author of "Balo's War: A Novel About the Plan of San Diego". They talk about Alfredo's blog Soy de Duval and his upcoming Historical Novel.
Show Notes:
This is session number 24
This podcast's main topic will be an interview with Alfredo Cardenas concerning The Plan of San Diego.
Alfredo Cardena's Facebook Page
You can visit this his Facebook page here: https://www.facebook.com/soydeduval
Alfredo's Blog
For more about Alfredo and his historical writings you can visit his website: http://soydeduval.blogspot.com/
Buy Alfredo's Book
Balos War, A historical novel based on the Plan of San Diego. You can preorder the book here: http://www.mcmbooks.com/
Facebook page: https://www.facebook.com/baloswar
Balo's War Debut: Book signing: https://www.facebook.com/events/497705197036825/?ref_newsfeed_story_type=regular
Membership Application
If interested in joining this society you can download their application form from here: http://www.rgvhispanicgenealogicalsociety.com/uploads/Membership_Application_2014.pdf
Alfredo's Email
Alfredo mentions that the best way to contact him is to message him through his Facebook page but her is the email. To contact Alfredo you can do so at alfredo at mcmbooks.com 
Don't forget to please leave us a review at iTunes, and stitcher thanks beforehand. Reviews help others discover my little podcast. : ) Help support this podcast by buying any of my eBooks located on the books tab. Thank you in advance I really appreciate you. The link is https://www.wearecousins.info/book Hope that you had fun and until next time, God bless.