There is never too many resources when it come to finding more information about our ancestors. Land records are a great resource not just because they tell us where they may have had lived but because these documents also contain, sometimes, a great wealth of information about genealogical clues.
Luckily for us in Texas, the Texas General Land Office allowed Galen D. Greaser to compile and catalogue their records pertaining to items directly related to the process by which persons obtained a Spanish or Mexican land grant in Texas and these are Titles, Unfinished Titles, Character Certificates: Applications for Admission, Registers & Field Notes.
Partial Image from the Front Cover of the Book: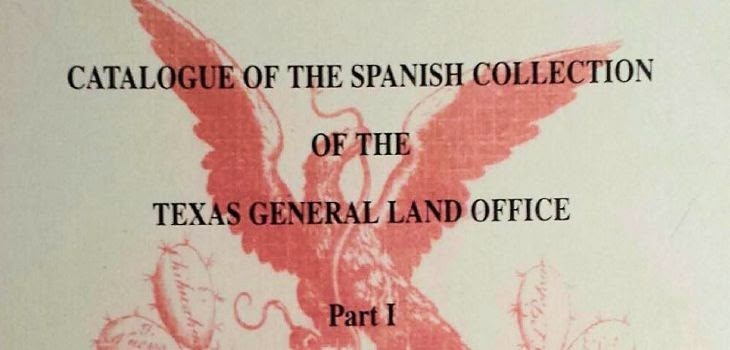 TABLE OF CONTENTS
Preface
How to Use the Catalogue
– Signs and abbreviations
– Acknowledgements
Who We Are and What We Own: The Spanish Collection of the Texas General Land Office
Catalogue of the Spanish Collection, Part I
Titles
Unfinished Titles
Letters of Recommendation!Testimonials/Passports
Character Certificates
Testimonies and Copies
Voided Titles
Fragments/Miscellaneous
Registers of Families
-Austin's Register of Families
-Milam's Register of Families
-Wavell' s Register of Families
-Charles S. Taylor's Orders of Survey
-A list of colonists recvd. since the passage of the Organic Law
in the Nashville Colony
Requests for Admission in Austin's Colony
Certificates of Admission
Oaths
Designation of Agents
Orders of Survey
Requests and Receipts for Delivery of Titles
Receipts for Government Dues
Notes and Correspondence Related to Land Distribution
Minutes, Reports and Registers of Titles
MInutes of the ayuntamiento of San Felipe de Austin, 1828-1832
Registro de los documentos y titulos en la primera empresa de colonizacion del empresario Estevan F. Austin en Tejas
Visita General
Reports of Wm. H. Bourland and JAmes R. Miller
Copies of Trans-Nueces Records
Receipts for Withdrawn Files
Amparos
Titles by Comm. Juan Antonio Padilla for Land in Mexico
Untitled and Noteworthy Field Notes
General Land Office Business Regarding the Spanish Collection
Documentation of Spanish Collection Records
Lists and indexes
Translations and copies from counties
Copies from Saltillo Archives
Copies from other sources
Documentation regarding Spanish and Mexican land grants not in the TGLO
Rare Books
Index
Where to Obtain this book:
UTPA Special Collections (Check Availability)
Amazon (BUY NOW)
South Texas Land Grants:
If you are interested mainly in South Texas Land Grants check our my previous post. New Guide to Spanish and Mexican Land Grants In South Texas
Good luck in your research. Remember to have fun.