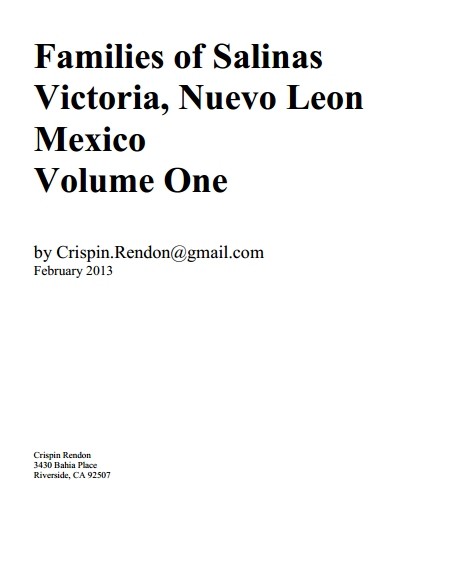 Earlier today I received the following email from Crispin Rendon announcing the release of his new book about the Families of Salinas Victoria Volume One covering the Marriages from 1755 to 1769. I highly encourage everyone to download the book and also read the first pages to get an idea of the scope of  Crispin's new project. This is the first of Nine Volumes.
Here is the Email:
This email is going out to everyone in my genealogy address book.  There is no need to respond.

I have posted online Volume One of Families of Salinas Victoria Nuevo Leon.

Below find a link to it.

Francophiles look for two marriages on Nov. 3, 1756. That is when two Frenchmen Bernardo Puy and Pedro Peche married the Villarreal sisters, Maria Francisca and Isabel Maria daughters of Francisco Villarreal and Catalina Garza.

Families of Salinas Victoria, Nuevo Leon, Mexico Volume One

http://home.earthlink.net/~nemexfh/sv1.pdf

Best Regards

Crispin Rendon
Hope you have fun searching for your ancestors in this new book.