If you have ancestors from Mier, Los Aldamas, Dr. Coss, San Antonio de Reyna, La Lajilla, and El Arcabuz this book will be a great resource to you.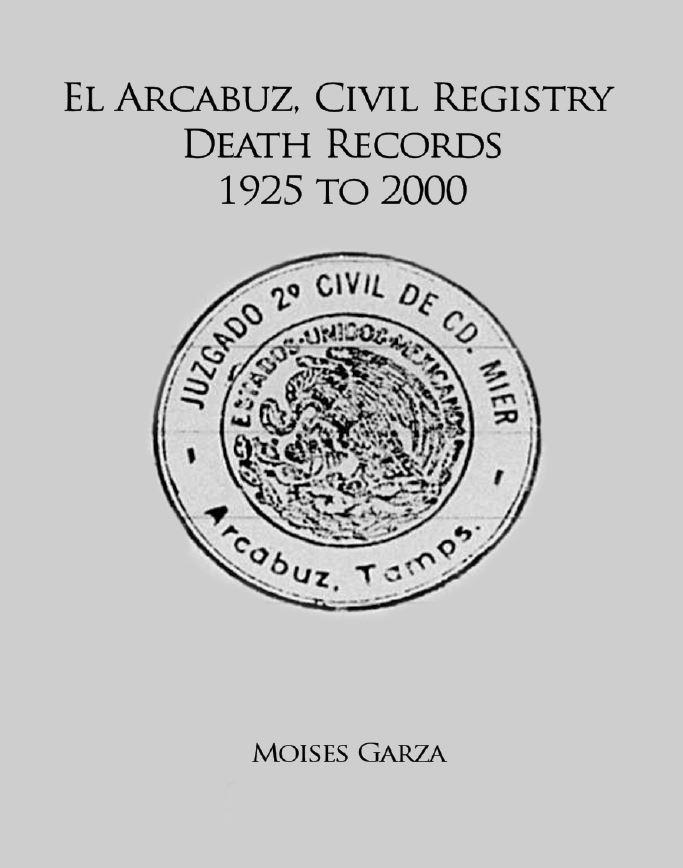 Book Price: $39.99


or
Buy PDF Version
In 1925 a second Civil Registration office was created in Arcabuz for the Municipality of Mier. In this year Arcabuz started to record the births, marriages, and deaths for almost half of this municipality up until 1953. In 1953 the Municipality of Miguel Aleman was created and since then the deaths for half of Miguel Aleman have been recorded in Arcabuz. The date listed in these records is the date that the person is indicated to have had died. One has to remember that the deaths listed here are of people that were buried in Arcabuz. In total we have 789 records listed in this book.
This book is for anyone that has roots in El Arcabuz, Tamaulipas, Mexico or any of the surrounding towns of San Antonio de Reyna, Dr. Coss, Los Aldamas, Mier, and Camargo.
I also know that this book will be a great resource to anyone researching the municipalities of Mier and Miguel Aleman since many people residing there can trace their ancestors to El Arcabuz.