Here is everything that you need to know about the upcoming 38th Texas Hispanic Genealogical and Historical Conference that will be held this year in Austin, Texas.
This year's conference will be hosted by the Tejano Genealogy Society of Austin (TGSA). It will be on September 28-30, 2017 at the Crowne Plaza Hotel located at 6121 North IH-35 in Austin, Texas 78752.
If you have never attended one of this conferences make sure to attend this one. I have attended for the past three years. The ones in McAllen, Laredo, and Corpus Christy. They blew my mind. I had a ton of fun on all these conferences. I also got to make new friends and meet many people. I am specially excited since for this one my wife will be going with me. I definitely will try to take more pictures to share with everyone. Well here is all you need to know about the conference so that you can start planning early. I got my room a few months ago since I love staying at the hotel that the conference takes place.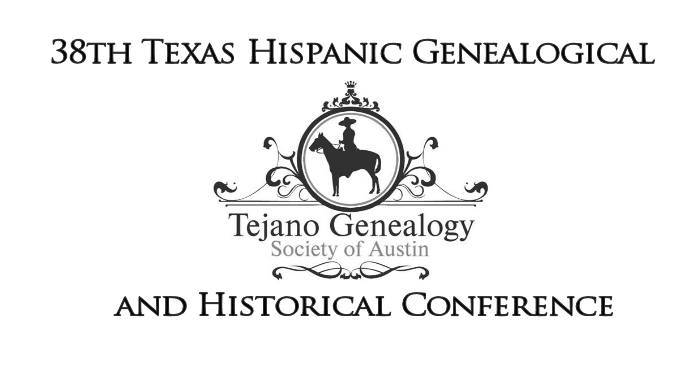 Hotel and Room Information
The hotel is located on Crowne Plaza Hotel, 6121 North IH-35, Austin, Texas 78752. Their phone number is 512-323-5466 or toll-free at 800-227-6963..
Room rate is $119 (two doubles or king). Use group code TEJ to reserve your room
Breakfast tickets: $5 for first 2 room guests, $5 each for 3rd and 4th room guests MUST be purchased at time of hotel check-in. Rooms include Free parking.
Conference Registration Information
Make sure to send in your conference registration before August the 5th, 2017 in order to get in at $75.00. After that date the late registration kicks in at $90.00 per person and after September 5, 2017 it goes up to $100.00. Just be aware that these fees are non refundable so make sure you are going.
>>DOWNLOAD REGISTRATION FORM<<
Itinerary
Thursday (Sept 28):
11:00 am – 5:00 pm – Tour "Researching our Past"
For those of you not attending the tour make sure to check out the vendor area, I will be there from 1:00 pm to 5:00 pm. Make sure to drop by to say hi.
Friday (Sept 29)
Not yet Announced
Saturday (Sept 30):
Not yet Announced
Speakers
TGSA already posted a list of speakers with a short description of what the topics may be for presentations. I will be presenting "DNA Testing for Genealogy".
• Dr. Marian J. Barber – The Director of Catholic Archives of Texas shares what the types of
genealogical information that is available for researchers including tips and tricks for locating
sacramental records.
• James Brewster – A DNA expert with Family Tree DNA breaks down the difference between
autosomal, Y DNA, and mtDNA tests, what we can learn from the results of these tests, as well as migration patterns as they relate to different haplogroups.
• Charles Bumpass – As an adoptee, Charles reveals his use of GEDMatch to unravel the mystery of his personal genealogy. This session will be of interest to adoptees and those seeking to find relatives, as well.
• Alfredo Cárdenas – Historian and author of "Balo's War" in which he tells the story of a people who went from being Spaniard to Mexican to American in a span of 30 years.
• Amancio J. Chapa, Jr. – A descendant of Juan Bautista Chapa/Giovanni Battista Schiapapria shares his knowledge of the well-known ancestor many of us share with him.
• Dr. Carolina Castillo Crimm – Dr. Crimm will give us a look into the courage of early Tejanas and their contributions to our history. She will also provide an insight into Bernardo de Gálvez and how his efforts changed the role Texas would play in the American Revolution.
• Anthony Delgado – Historian and blogger Delgado will provide the history of the first 175 years of the Canary Islanders that settled in modern-day San Antonio. Who are they, why were they sent, and who are their descendants today?
• Moises Garza – Garza, a Mexican Genealogy Blogger and Researcher, will share his knowledge on various resources available as they relate to Mexican and Colonial period ancestors, DNA, and how to network with other researchers to improve your results.
• Dr. Steven Gonzales – The Executive Director of El Camino Real de los Tejas National Historic Trail Association will provide insight into the importance of the past and present of El Camino and what it means to our history.
• Ted Herrera – Learn about Native American ancestry from a descendant of Tlaxcala, Chichimeca, Huichol, and Coahuiltecan Indians and explore why this ethnic mix is so prevalent and yet often overlooked and misunderstood.
• Johnny Limón – A member of the Austin Tejano Music Coalition, the presentation will discuss the history of Tejano music.
• José Antonio "Joe" López – Historian, Author, and Blogger, López discusses the importance of preserving Spanish Mexican (Tejano/Tejana) origins for future generations.
• Mark Myers – As an Electronic Records Archivist at the Texas State Library and Archives
Commission, Mr. Myers will discuss the various records located at the Library and Archives, and explain how to preserve your own personal records.
• Rumbo al' Anacua – A social-historical and entertaining commentary on "música ranchera" by Joeand Rosa Canales Pérez.
• Dr. Dell Sánchez – Dr. Sánchez presents evidence of Sephardic Jewish ancestry shared by many, if not most Hispanics/Latinos.
• Dr. Brian Stauffer – The Spanish Translator at the Texas General Land Office (GLO) will share with us information about the trove of Tejano historical data available at his agency with a special focus on maps and Spanish-Mexican land grants.
• Dr. Andrés Tijerina – Our own renowned Author, Historian, and Professor will present a look at Tejanos, our original Texas families, and the need for a Tejano Legacy Association similar to other legacy groups.
• Jesse O. Villarreal – Villarreal shares his story about his ancestor's contribution to the AmericanRevolution which allowed this author to become a member of the Sons of the American Revolution.
More Information About the Conference
Visit the Tejano Genealogy Society of Austin for more information about the conference: Got to Website
Vendors
If you are a vendor tables are going for $50.00 each. FYI, I will be a vendor and already got my table. So if you are interested in meeting me or buying any of my books look for me at the vendor section. Vendors are to set up on Thursday form 1-5 PM.
Any questions about vendor tables you may contact Minnie Wilson at [email protected]
For Additional Questions
Contact TGSA through their website: http://www.tgsaustin.org