Here is another awesome resource from our friend Juan Jesus de Leon. I am sure that you recognize him from all his previous publications on the Leal and de Leon. To find his previous work just enter his name to the search bar on top of this page.
With that said let's get back to his current publication. Juan's focus now is the Garza and de la Garza last names, whom we all know they are the same and almost everyone carrying those last names are descendants of Marcos Alonso de La Garza unless there was a non paternal event like adoptions, or infidelity. Here I go again, make sure to get your copy of this eBook and add it to your digital library.
Description of book by Juan Jesus de Leon:
Bautizos de La Catedral de Monterrey N.L.
Garza y De La Garza 1731-1741
Fuente Familysearch.org
Esta lista esta conformada por personas con los apellidos Garza y De La Garza siendo bautizados entre los años 1731 a 1741, incluye numero de imagen en el Film de donde se extrajo la informacion, nombres de ambos padres nombres de los padrinos al igual que la casta a la que pertenecia el bautizado, en algunos records donde la lectura no es legible tendra un espacio en blanco o puntos suspensivos .
El trabajo en la interpretacion de esta lista esta basado en lo que leo, sin tener una eduacion formal en Genealogia o Paleografia.
Esta lista no es 100% correcta debido a que puede contener errores de interpretacion. para preguntas, correcciones o sugerencias mandar correo a [email protected]
Por Juan Jesus De Leon Arroyo con la colaboracion de Cleopatra Aurora DeLeon
Diciembre 12, 2016
Houston, Texas
Cover of eBook: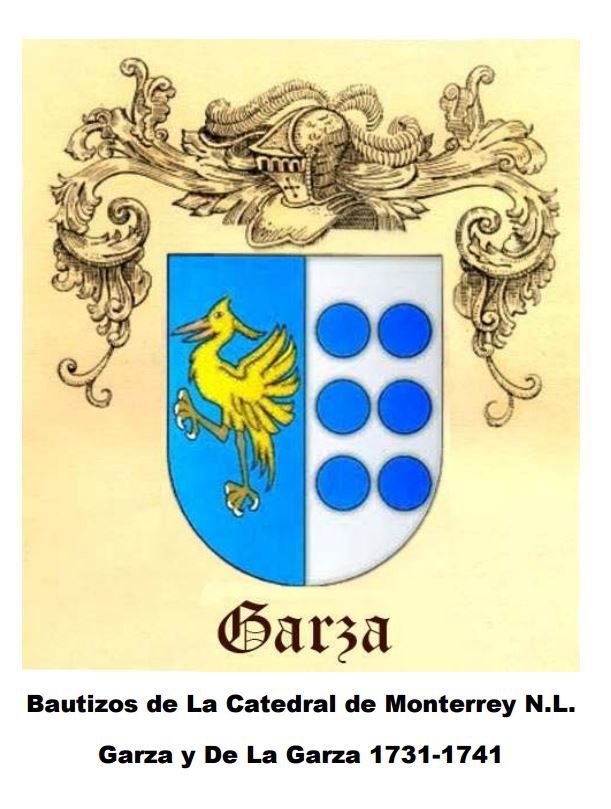 You can press the link above or you can use thsi one to get a copy of the eBook: https://drive.google.com/file/d/0B82q3Fzv3tftUGhuUlZhQUJKQUU/view
If you see Juan Jesus de Leon around tell him thank you for his great work. Enjoy and take care.