Crispin Rendon has published another DNA report and this one is the one for Josefa Gonzalez. Raymundo Arturo Gonzalez had his maternal DNA tested and has an unbroken link to Josefa Gonzalez whom was the wife of Capitan Alonso de Leon.
Here is what Crispin mentions in his report.
Raymundo Arturo Linares is the mtDNA descendant of Josefa Gonzalez (spouse of Capitan Alonso Leon). Josefa Gonzalez is my 9th great grandmother. Our kindred database has 35,458 of her descendants. I had parents for her but without a primary source I have deleted them from the database. This report is part of a citizen science project exploring our kindred group ancestry with both traditional and genetic genealogy. Sources and some links are provided to show the evidence used to establish the unbroken mtDNA line.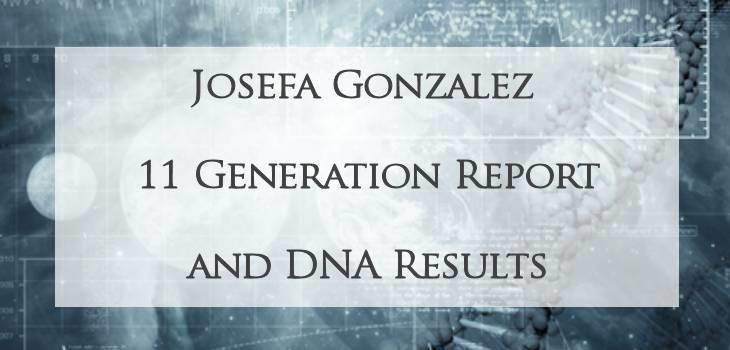 Josefa Gonzalez mtDNA Results
Haplogroup C1c5
HVR1 DIFFERENCES FROM RSRS
A16129G T16187C C16189T G16230A T16278C T16298C C16311T T16325C C16327T C16354T C16519T G16526A
HVR2 DIFFERENCES FROM RSRS
C146T C152T C195T A247G A249d A290d A291d 315.1C T489C 522.1A 522.2C
CODING REGION DIFFERENCES FROM RSRS
A769G A825t A1018G G1888A A2758G C2885T T3552a T3594C G4104A T4312C A4715G G7146A C7196a T7256C A7521G T8468C G8584A T8655C A9545G C10400T T10664C A10688G C10810T C10915T T11617C G13105A A13263G G13276A T13506C T13650C T14318C T14783C G15043A G15301A A15487t G15930A
Extra Mutations: C146T C152T 315.1C 522.1A 522.2C C16189T C16354T C16519T
Get Your Own Copy of the Report
http://home.earthlink.net/~genteran/mtDNARayLinares.pdf
Join the We Are Cousins DNA Project:
If you have tested with Family Tree DNA please join our project at http://www.wearecousins.info/dna you can compare your results to others whom have tested that are also from South Texas and Northeastern Mexico. Also if you are already a member please send me yoru family trees so we can start generating reports similar to this one.