In 1925 a second Civil Registration was opened for the municipality of Mier. The southern half of the municipality now had their births, marriages and deaths recorded in Arcabuz, Tamaulipas, Mexico.
Arcabuz, belonged to Mier all the way up to 1953. Now days it is located in the present day Municipality of Miguel Aleman and has belonged to it since 1953. So between 1925 and 1953 all vital events for the southern half of the municipality of Mier were recorded in Arcabuz, Tamaulipas. This is why I tell everyone that a historical analysis of an area is vital to locate where documents were recorded during different time periods.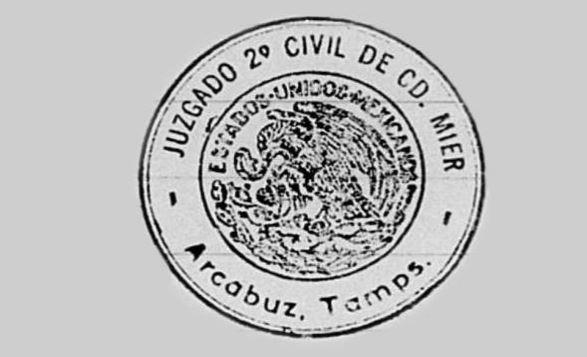 The following ranches were recorded in Arcabuz:
Buenavista
El Ranchito
El Rodeo
Las Chapanecas
Rancho de la Sandia
Rancho de los Garcia
Rancho de los Naranjos
Rancho de los Treviños
Rancho de Magueyes
Rancho de Santa Teresa
Rancho la Lomita
Rancho los Guajillos
Rancho Nuevo
Rancho Viejo
San Antonio de Reyna
Tres Palmas
Don't be deceived, If your families ranch is not mentioned, by the above list. Our ranch is named "Rancho el Ebanito" and it used to belong to Rancho Los Guajillos. Basically the above mentioned ranches are not ranches but a description of the general area comprised of smaller ranches were the person or persons were from.
As I have mentioned before and you may already be aware, one of my lifetime goals is to document every family and person associated or having a link to Arcabuz. This has lead me to publish two books in regards to this area and if your ancesotrs were form Mier I highly recommend you get a copy of them.
Both are available at Amazon:
El Arcabuz, Civil Registry Marriage Records 1925 to 1950
El Arcabuz, Civil Registry Birth Records 1925 to 1930
Also if you are new to genealogy and would like to learn basic concepts and or read about genealogy research examples please check out my book: Mexican Genealogy Research Online: A Guide to Help You Discover Your Ancestry 2nd Edition.
I hope that you found this post to be useful in your research. Also if you have any family from Mier and or Arcabuz let me know. I would love to research your family and link it up to mine. Take care and have fun!