I got up very early in the morning to get my day started right. I had thought about getting a hearty breakfast but that idea soon faded away. I happened to ran across Crispin and soon afterwards we were talking about the We Are Cousins DNA project and agreeing that we needed to get together that evening to work on each others part and bounce ideas.
Luckily for me there were pastries and coffee in the conference are and I had a chance to get some of both. By the time we ended talking it was already 8:00 am and the vendor area was already opened. I headed to my vendor tables and soon afterwards people started to arrive either to buy a book or to pick my brains as to how they may proceed in their research. I didn't mind the questions since believe me I also, during the conference, picked the brains of others as to my own research.
I had the chance to snap the following photo, a selfie with SAGA's logo.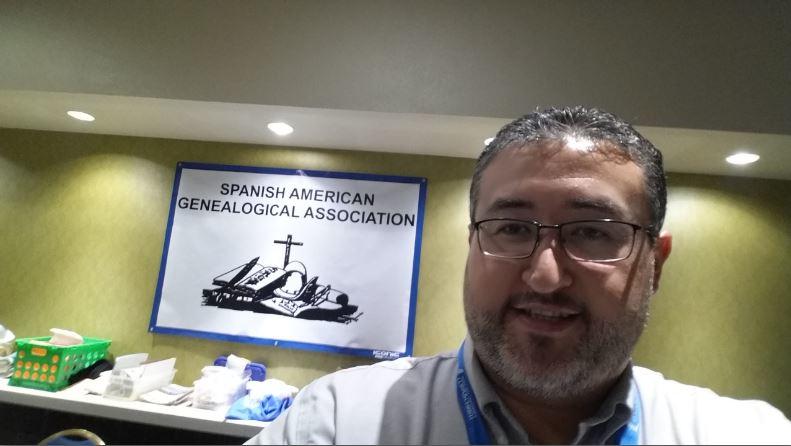 Soon afterwards I had the pleasure of meeting Mr. Linares a member of Las Villas del Norte.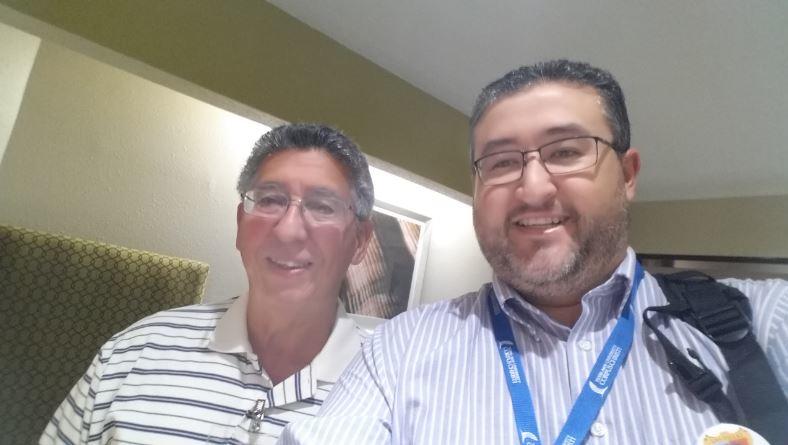 I also meet Lucila Garcia, another member of Las Villas del Norte.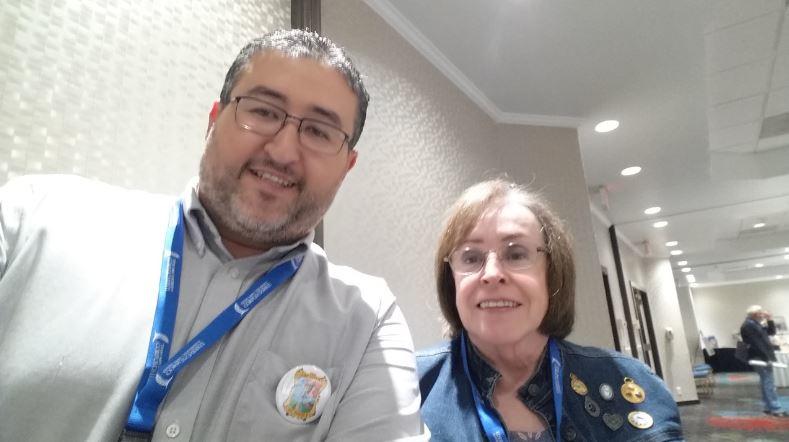 I almost forget to mention it but 58 members of We Are Cousins made it to my vendor table to pick up their tags. At one point I was asking them to put together their own tags. I had no idea that so many members of the group would be in attendance. It was great to finally meet so many group members in person. Unfortunately due to the amount of people visiting my booth I had no opportunity to take any pictures with them.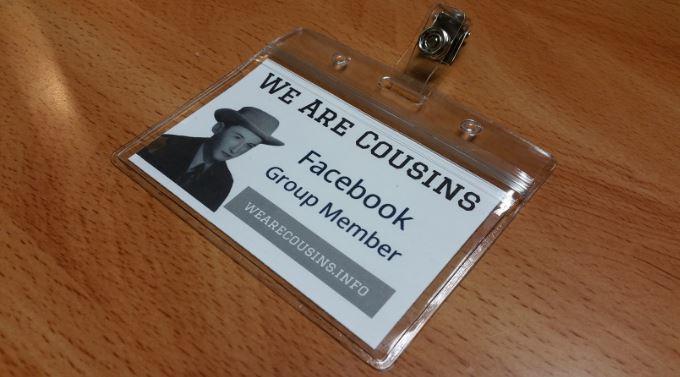 Also 42 members of Las Villas del Norte made it to my booth to pick up their membership buttons. I was surprised but very happy that they attended. Many of them got a copy of Las Villas del Norte first newsletter as a thank you for their membership.
I also had the good fortune to visit many of the vendors but only took pictures with two of them. The first one was judge Buttler.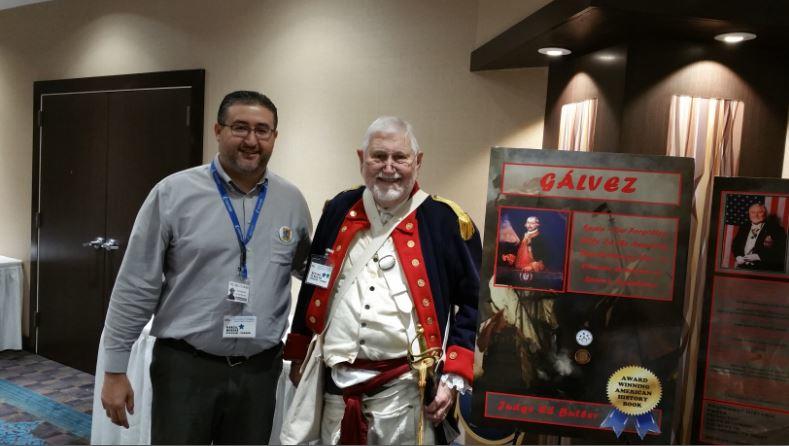 As you can see he is really into Galvez, but I had the most fun talking to him about South Padre Island and Spring Break. You see he used to be the judge for many years in South Padre Island and he told me how he used to deal with Spring Breakers. Good thing I never went before his court.
Another vendor that I meet and made a great impression on me was Jesse O. Villarreal, Sr. I tried to purchase his books but refused to sell them to me and agreed to trade my books for his. I could not say no to that. He also advised that between vendors it is best if we just trade. Thanks to him I was able to trade many books to other vendors.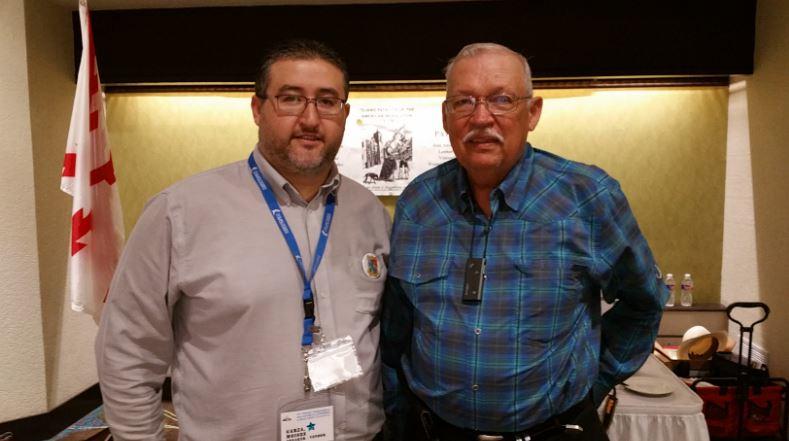 I also briefly Spoke with Homero Vela and also talked allot to Mr. Servando Hinojosa whom makes awesome portraits of ranch life. Unfortunately, I didn't take pictures with them.
I also had the importunity to finally meet Juan Scobar a long time member of We Are Cousins Facebook Group and Facebook Friend. Mr. Escobar has been doing Genealogy research most of his life and what is great is that we have some common ancestors back to my little town of Arcabuz.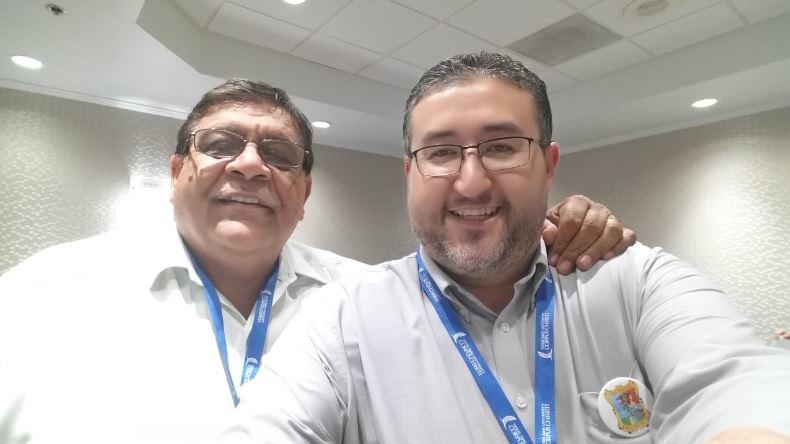 I had the opportunity of meeting briefly with Carlos Castañeda one of the very first members of Las Villas del Norte and also our Facebook group We Are Cousins. That same night i had the pleasure of conversing with him and Mrs. Patino at the hotel lobby.
On my previous post I forgot to mention that there was a dedication to Clotilde P. Garcia were I had the opportunity of listening to her granddaughter talk about her. There was also an unavailing of a portrait of hers. The following picture is of the display that was placed next to our vendor table.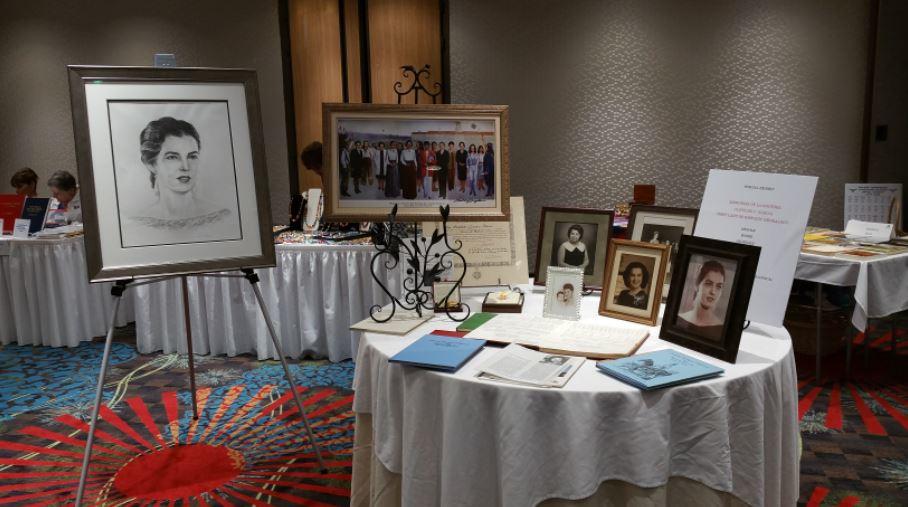 We had a quick lunch, I say we because it was me and Mario Davila, at the hotel restaurant I was very impressed with the food. For dinner we ate once again at the local dinner next to the hotel. this time it was the usual crowd but now Crispin Rendon and Mr. Jose G. Murguerza Jr. were added to our group. I sat next to Mr. Murguerza whom is a very knowledgeable individual. I learned so much form him and even offered to research some of my wife's brick walls since he has access to records that I don't. earlier that day I had heard form different sources that he Mr. Muguerza had a very interesting book and it was a one of a kind. I politely asked him if I could see it and he said that he would love to show it me and Mario Davila.
Later on that night he went to our room with his book. It was a compilation of his work on the Muguerza family. He had bounded if with a hard cover and it was beautiful. It contained a ton of photos and what amazed me was that he new each name with detail and added stories not even mentioned in his book. Soon Crispin Rendon also made it to our room since I had taken my laptop. He added some slides and we bounced ideas from each other. Other topics were discussed but those are for another post.
That was it for the second day of the conference. I wish I could have attended the sessions but I find it more useful to be at the vendor table since i feel that I get to talk to the most people that I can, specially since everyone new were I was located at.
If you've read this far you are probably thinking, man this post has nothing to do with genealogy. In a way it does. It provides a glimpse to the people that you can meet at these conferences. We come in all shades and forms and from every imaginable walk of life. What we have in common with each other is our passion to find our ancestors and share our findings with like minded individuals, but best of all we are family, a very big family since we are all related to each other.
Tomorrow I post the third and final blog post in this series. Let me know int eh comments what you think.