This is the death record of Pedro de la Graza, my 9th great grandfather. He died in Monterrey, Nuevo Leon, Mexico back in November 20, 1695. This document does not indicate much genealogical information but through other documents we know that his parents were Pedro de la Garza and Ines Rodriguez. We also know that he was married to Lucia de la Rocha.
The Pedro de la Garza that is mentioned as an "albacea" was his son. I am a descendant of his through three of his children Nicolas, Pedro, and Ines. Here is hsi death record
Cut out of Original Image: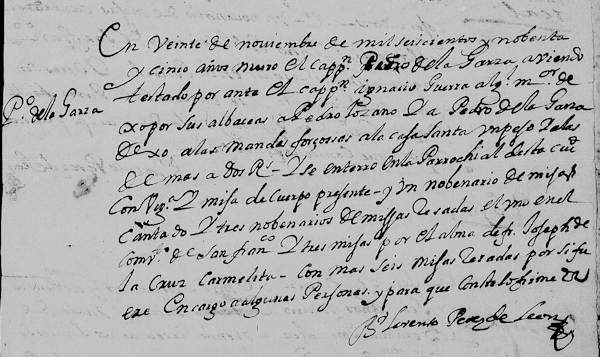 View Original Image at FamilySearch.org
Transcription of death image:
Po. de la Garza
En veinte de noviembre de mil seicientos y nobenta y cinco años murio el Cappn. Pedro de la Garza aviendo testado por ante el cappn. Ignacio Guerra algl. mor. dexo por sus albaceas a Pedro lozano y a Pedro de la Garzadexo a las mandas forsosas a la casa santa un peso y alas de mas a dos Rs. Y se enterro enla Parrochial desta ciud. Con Viga. y misa de cuerpo presente – y un novenario de misas cantado y tres nobenarios de missas Resadas el uno en el Convto. de San Franco. y tres misas por el alma de Fr. Joseph de la Cruz Carmelita – Con mas sis misas Resadas por si fuere En cargo a algunas Personas. y para que Conste lo firme et
Br. Lorenzo Perez de Leon
Sources:
"México, Nuevo León, registros parroquiales, 1667-1981," database with images, FamilySearch (https://familysearch.org/pal:/MM9.3.1/TH-1-159380-55262-62?cc=1473204 : 21 May 2014), Monterrey > Catedral > Defunciones 1668-1752 > image 58 of 368; Parroquias de la Iglesia Católica, Nuevo León (Catholic Church parishes, Nuevo León).