This is the July 11, 1683 baptism of my 6th great grandfather Juan Antonio de Tamez in Monterrey, Nuevo Leon, Mexico. This document indicates that he was born in June 27, 1683 and that his parents are Juan de Tamez and Nicolasa Flores.
Juan eventually marries Catarina Rodriguez de Montemayor and I descend form their son Juan Angel Tamez.
Cut out of Original Image: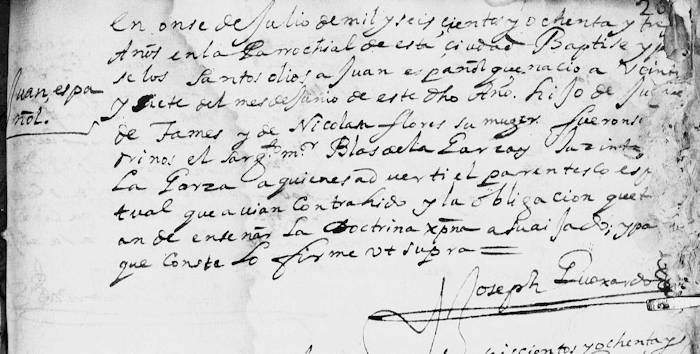 View Original Image at FamilySearch.org
Transcription of baptism Image:
Juan español.
En once de Julio de mil y seis cientos y ochenta y tres Años en la Parrochial de esta ciudad Baptise y puse los Santos Olios a Juan español que nacio a veinte siete del med de Junio de este dicho Año. hijo de Juan de Tames y de Nicolasa Flores su mujer. fueron su [damaged] drinos el Sargto. mor. Blas de la Garza y Jazinto [damaged] la Garza a quienes adverti el parentesco esp[damaged]iritual que a vian contraido y la obligacion que tie[damaged] rn de esnseñar la doctrina xpna a su aijado: y pa que Conste lo firme ut supra =
Joseph Guaxardo
Sources:
"México, Nuevo León, registros parroquiales, 1667-1981," database with images, FamilySearch (https://familysearch.org/pal:/MM9.3.1/TH-1-159380-30444-84?cc=1473204 : 21 May 2014), Monterrey > Catedral > Bautismos 1668-1731 > image 93 of 551; Parroquias de la Iglesia Católica, Nuevo León (Catholic Church parishes, Nuevo León).
Recommended Books
If you are new to Mexican Genealogical Research make sure to check out my book "Mexican Genealogy Research Online A Guide to Help You Discover Your Ancestry 2nd Edition".
Another great resource, that is if we have ancestors in common, is my book "Ancestors of Moises Garza From Nuevo Leon, Tamaulipas, and Coahuila: From the 1500's to the 2000's".