This is the November 1, 1699 baptism of my 7th great grandmother Maria Ysabel Juana Guajardo in Monterrey, Nuevo Leon, Mexico. Her parents are Joseph Martinez Guajardo and Margarita Gutierrez.
This document indicates that her godparents were Juan Chapa and Maria Mungia.
Cut out of Original Image: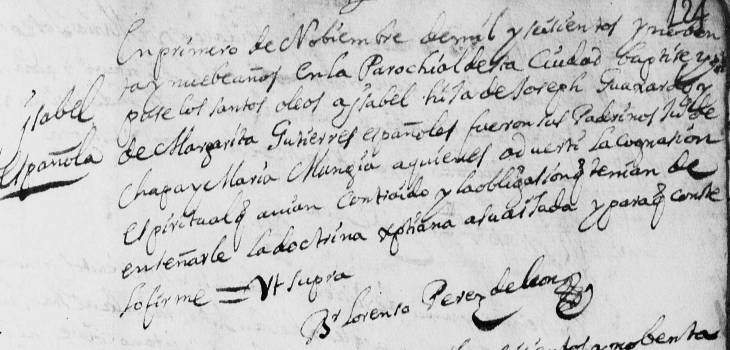 View Original Image at FamilySearch.org
Transcription of baptism Image:
Isabel Espanola
En primero de Nobiembre demil y seisientos y nobenta y nuebe anos en la Parochial desta Ciudad baptize y puse los Santos oleos a Isabel hija de Joseph Guxardo y de Margarita Gutierres espanoles fueron sus Padrinos Jun. de Chapa y Maria Mungia a quienes adverti la cognacion espiritual que avian contraido y la obligacion que tenian de ensenarle la doctrina xptiana a su aijada y para que conste lo firme = Ut Supra
Br. Lorenso Perez de Leon
Sources:
"México, Nuevo León, registros parroquiales, 1667-1981," database with images, FamilySearch (https://familysearch.org/pal:/MM9.3.1/TH-1-159380-30586-77?cc=1473204 : accessed 29 March 2016), Monterrey > Catedral > Bautismos 1668-1731 > image 176 of 551; Parroquias de la Iglesia Católica, Nuevo León (Catholic Church parishes, Nuevo León).