Ernesto Uribe was a long time friend of We Are Cousins and his contributions to our community continue to make ripples. You may just be encouraged to write your own fictional story after reading his guest post "Turning Facts into Fiction And Writing The Historical Novel".
Or maybe, just maybe, you may find the missing link in your own family tree by using his own family tree "The Family Tree of Ernesto Uribe".
The main purpose of this post is to present to you Ernesto's own memoir "My Way: A South Texas Rancher in the Diplomatic Service of the United States". It is not a genealogy related book, unless Ernesto is in your family tree.
The first thing that grabbed my attention was the title of the book. I can relate to it, I am from South Texas, I don't consider my self a rancher but my father and his father before him where ranchers.
Ernesto starts his book with his earliest recollection as a child. He talks about how his life was as a kid and a teenager growing up in Laredo Texas. How he ended up in the service of his country by pure luck and how his ranching experience helped him throughout his distinguished career.
Ernesto talks about his earliest struggles and the struggles he face all the way from growing up, up until he retired. His constant fight against stereotype and in some cases discrimination for being hispanic.
Ernesto's memoir is a page turner, once you start reading it you can not put it down. It also gives you a first hand view into what the United States Information Agency does around the world, specially Latin America.
This book will inspire you to always strive for your goals and to not settle for what people want you to do.
Cover of Book: My Way: A South Texas Rancher in the Diplomatic Service of the United States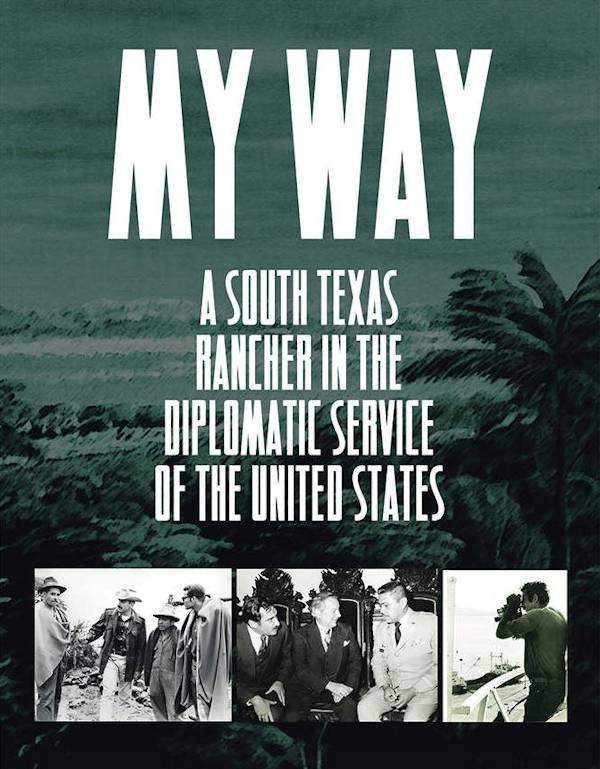 Click here or on the above image to view on Amazon.com
$19.99 New Buy Now
Description of book by Amazon:
"I was encouraged by several foreign service colleagues and my children, as well as my older grandchildren. They all prodded me to write a memoir.
I entered the foreign service by pure luck. It was only because I was at the right place at the right time and was the right age to fill a need discovered by Robert Kennedy shortly after his brother was elected president in 1961. The problem was that no one in the state department was doing anything about reaching out to the youth of the word. Under a new program the Kennedys created, I was invited to enter the foreign service of the US information Agency (USIA) as a student affairs grantee because I could be shipped overseas immediately to help fill this gap. I was selected because I had an advanced degree in sociology, I was athletically inclined, and most importantly, I was bilingual in Spanish."
Table of Contents:
Here is the table of contents of this book so that you may know exactly what it contains.
About the Author:
Ernesto Uribe entered the USIA Foreign Service at age of twenty-four in 1962. He had graduated from Texas A&M College, where he earned two undergraduate degrees and a master's degree. He started his career with USIA as a student affairs grantee in the foreign service for thirty-three years, serving full tours in seven different Latin America countries. He rose in the ranks of the foreign service, coming from a lowly hired-hand grantee to being a minister counselor in the senior foreign service.
Get Your Copy of This Book:
At the moment of writing this article you can find this great book at Amazon.com and $19.99 new and or get the kindle version for $3.99. If you are interested in buying this book click here BUY NOW to buy from Amazon.
You can read more about Ernesto in one of my previous posts "Ernesto Heberto Uribe, August 14, 1937 – November 21, 2015".
I hope that you find this book useful and informative as I have. Please let me know in the comment area of what you thought about this book.