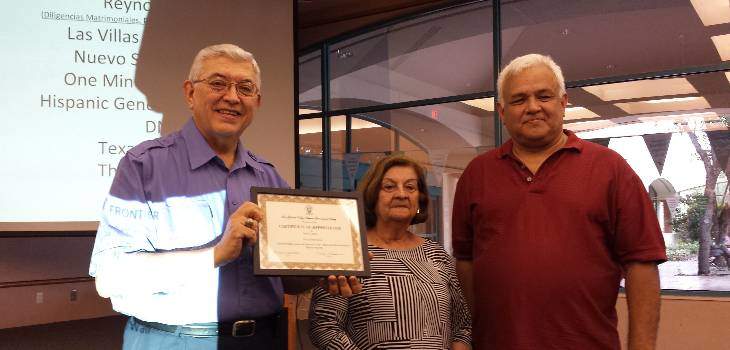 This past Sunday I attended the Rio Grande Valley Hispanic Genealogical Society in Harlingen, Texas. I had the good fortune of traveling with the presenter for that day. None other than my good friend Mario Davila, whom I meet last year at the 35th Hispanic Genealogy and History Conference in McAllen, Texas. Turns out that he lives in McAllen Texas and I in Mission, we are practically neighbors.
At the presentation I helped Mario with his camera since he wanted to record his presentation in order to share it in his Facebook page. This brings me to the reason that I am writing this post. He has released the first part of his presentation and is available for viewing. You can look at the video bellow on this page.
Before you do that let me tell you a bit about his presentation. I had the honor of viewing an earlier presentation that he did for Las Villas del Norte earlier this month on the 12th. Unfortunately I was not able to attend in person but saw the recording on the website a couple of days latter. Then I had the pleasure of not just listening to his second presentation but also helping him record it. Both presentations are similar but I learned allot on both of them.
The title of his presentation is "Libro de Matrimonios de Reynosa 1790-1811" and it was named after his book of the same name. Mario provided a great overview of his book, historical facts and his take on the founding of Reynosa. In the second part he also talked about what he is working on and what we can expect in the future. Overall it is a great presentation and I enjoyed it. I even laughed since Mario made the presentation fun. Look at the end of this post for more information abot Mario.
English Presentation: Libro de Matrimonios de Reynosa 1790-1811 Part I V1
I hope that you enjoyed his presentation. Remember it is the first of two parts. I'll make another post once he releases the second part.
If you are interested in buying his book you can do so at Amazon by clicking here: http://www.wearecousins.info/Matrimonios de Reynosa
Make sure and follow Mario's Facebook page to keep up to date with what he is doing and or his future projects. You can visit it here https://www.facebook.com/VillaDeReynosa and let him know that you heard about him on We Are Cousins.
Before you leave please let me know int eh comments about something that you learned in Mario's presentation. Please leave a comment in the comment section of this post.