Crispin Rendon has just released the thirteenth volume in his Families of Saltillo, Coahuila, Mexico. This particular volume covers the marriages from September 1810 through September 1815 that can be found on microfilm 605096 available at FamilySearch.org. If your ancestors are from Saltillo or it's surrounding area make sure to grab your free eBook copy today. You can find the link bellow. Even if you don't have ancestors make sure to get your copy. You never know when you might have the need to research this area.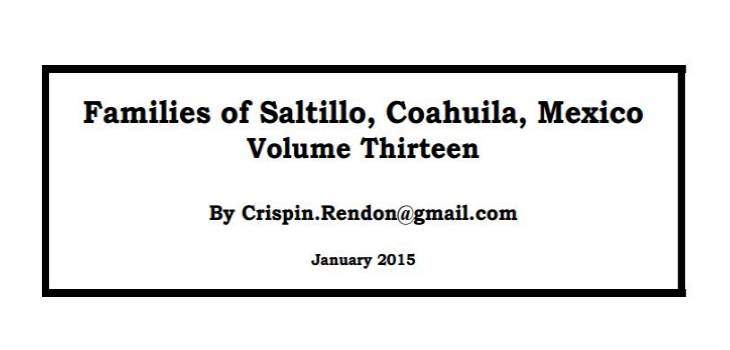 This is the email that I received yesterday from Crispin letting me know that he had just released this volume:
I have posted online another Saltillo familes book.
Families of Saltillo, Coahuila, Mexico Volume Thirteen
http://home.earthlink.net/~crisrendon/scmv13.pdf
For those of you with an interest of Reynosa, Tamaulipas a new e-book by Mario Davila may be the thing for you. You can learn more about it on facebook.
https://www.facebook.com/VillaDeReynosa
The e-book has marriage information from the Reynosa church records 1790-1811. It is a very attractive book. I purchased the Lee James Nichols' book on the same subject for $55.00 a year ago. Mario's book has more details. The e-book is for sale on Google Play for a very modest price. If you have any questions regarding the Reynosa e-book email the author. Mario Davila [email protected]
Best Regards,
Crispin Rendon
You can also read more about Mario Davila's book in a blog post that I wrote for MexicanGenealogy.info titled "Libro de Matrimonios de Reynosa 1790 – 1811".
Have fun with these two great books. Let me know of any finds that you make. I always love to hear about your discoveries.