I was recently conducting research on an ancestor of mine and found a citation that mentioned this book "Baptisms of The Cathedral of Monterrey, Nuevo Leon, Mexico Volume I (November 10, 1667 – December 31, 1677)". I promptly went to the Library page for the University of Texas Pan American and searched to see if they had it. Turns out that they did have it in their Special collections. This book was compiled by Robert Lee Tarin, Jr back in 1994.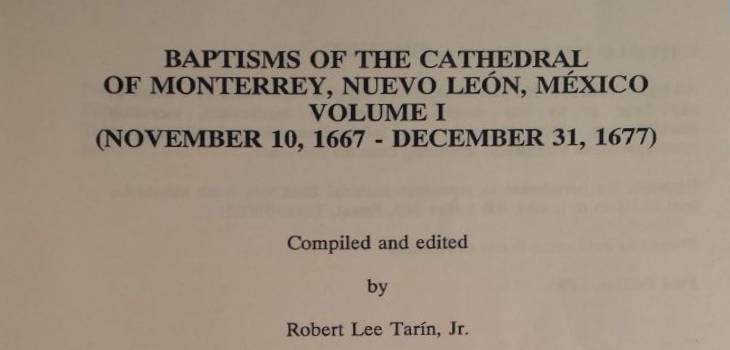 What I loved about the book is that contains a name index and names are very easy to look up. The author also transcribed the whole record and is very easy to read the whole book record by record. I know this post will be very short but I wanted to make sure to let you know that this book is out there and that it is a great tool for anyone researching ancestors in Monterrey during these years. The records that the author used for this book have already been indexed by FamilySearch and the images are also available at family search. Even though they are accessible online I found it easier to browse this book to find additional members of my family tree. Then I used the information to look up a copy of the record at FamilySearch.
Where to get a hold of a Copy:
I hope that you do get a hold of a copy. If you do let me know about what you find in the comments.