In this post, you will find the ebook Families of Salinas Victoria, Nuevo Leon, Mexico Volume Five it is another great eBook for your Genealogy research.
Just wanted to let you know that yesterday I received the following email from Crispin Rendon.
I highly recommend that you take the time to download this great resource for your growing genealogy library. I already downloaded it to my tablet and soon wills tart reading it.  In case you don't know you can press ctrl+f to search a particular name in the ebook.
Cover of Families of Salinas Victoria, Nuevo Leon, Mexico Volume Five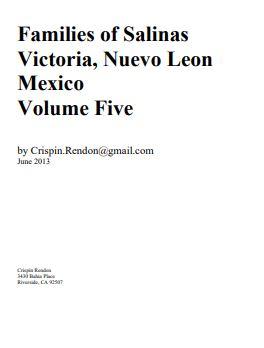 I have posted volume 5 of Families of Salinas Victoria online.

Find the link below

Families of Salinas Victoria, Nuevo Leon, Mexico Volume Five

Best Regards,

Crispin Rendon
Get Other Volumes on the Families of Salinas Victoria
Families of Salinas Victoria, Nuevo Leon, Mexico in Nine Volumes