As of today every Saturday I will be posting a book that is about Genealogy or that can be used for Genealogy. Specially books that have to do with South Texas and Northeastern Mexico Genealogy. I just think it is a great way of letting everyone know of what books are out there. The following book is titled 1799 census of Villa de San Juan Bautista de Cadereyta del Nuevo Reyno de Leon : (present day Cadereyta Jimenez, N.L.). As the tile states this book is the 1799 Census of Present day Cadereyta Jimenez, N.L. and is an excellent book for anyone researching this area.
Book Cover: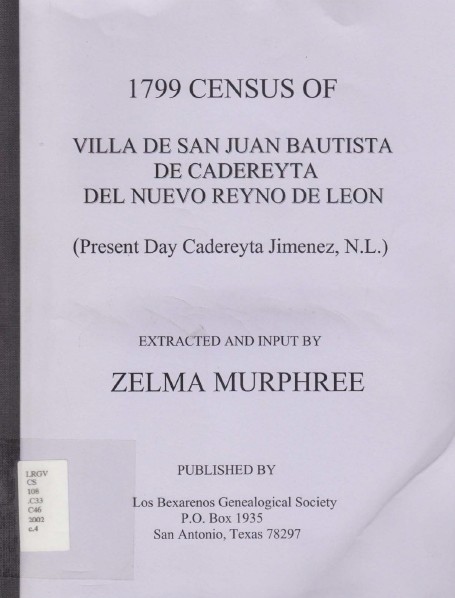 Contents:
Ranchos y Haciendas
Mentioned in this Census
                                  Page

RANCHO DEL CAP ADERO              45

RANCHO DE sn JOSE DE LA HORMITA   48

RANCHO DE LAS ENRRAMADAS          49

RANCHO DEL PASO DEL MACHO         50

RANCHO DE LOS HORCONES            50

RANCHO DEL OBISPO                 50

RANCHO DE LA CRUZ                 79

HACIENDA DE Sta GERTRUDIS         83,84

HACIDNDA DEL CASTILLO             86

RANCHO DE LA VOQUlLLA             92

RANCHO DEL SAUZ                   93

RANCHO DE SAN MATEO                93

RANCHO DE SANTANA                 93

RANCHO DE LA BAGRIA               93,94

HACIENDA DE SN JOSE               95
As you can see this census is not just of the town of Cadereyta but of all surrounding communities as well.
Where to find Book:
Find book in a library near you: WorldCat
This Post's URL: http://www.wearecousins.info/2013/01/1799-census-of-villa-de-san-juan-bautista-de-cadereyta-del-nuevo-reyno-de-leon