Land Records can be a great resource for anyone doing genealogy research. I recently found this awesome resource when it comes to Texas Land information. If you have not heard about this resource you are in for a treat.
On the following website you can expect to find:
Texas Land Titles
Deeds
Affidavits of heirship
and much more.
This resource is the Texas Land Records Real Property Records Search. You can find it online at www.texaslandrecords.com. It contains a lot of counties but for some of them you have to pay in order to be able to search or view images.
Screen Shot of Website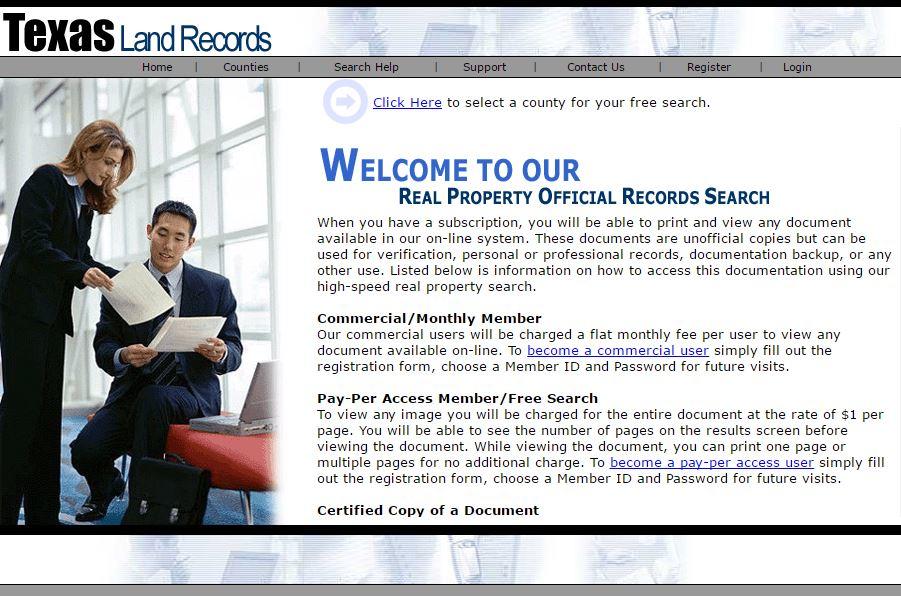 The following counties are included in this website:
Angelina
Bandera
Bee
Bell
Bowie
Brazos
Burleson
Cameron
Castro
Cherokee
Cochran
Coleman
Cooke
Duval
Edwards
Fannin
Freestone
Goliad
Grayson
Grimes
Hockley
Hutchinson
Jim Hogg
Jim Wells
Johnson
Lamb
Leon
Limestone
Live Oak
Madison
Marion
Matagorda
Midland
Milam
Nacogdoches
Navarro
Panola
Real
Robertson
Rusk Gr
San Jacinto
San Augustine
Scurry
Taylor
Upton
ValVerde
Walker
Wilbarger
Wilson
Zapata
All of the above websites let you browse their index for free but some you will need to pay in order to get copies of the images. Make sure and check out your own county since it might be free to download images for it.
There are two requirements for most counties, to signup but it is free to do so, and also install a TIFF reader.
After playing for a few days with this website, I am still amazed at the wealth of genealogical information I found and not to mention downloadable copies of original court documents.
Give it a try, once again the website is www.texaslandrecords.com.