This is the May 3, 1778 baptism of my 5th great grandmother Maria Juana de Dios Lopez in Mier, Tamaulipas, Mexico. From what you can see the image is very badly faded and I had to use other records form this collection to try and decipher what it says.
The transcription is the best that I could do, but even like this we could make out the names of the parents and that of the god parents.
The parents are listed as Jose Antonio Lopez and Maria Javiera de la Garza. Her godparents are listed as Jose Cayetano Lopez and Maria Antonia Gonzalez. It is also interesting to note that this record does not mention the baptismal date but the prior record does and we can deduce that this record is referencing the date on the prior record.
It is also mentioned that she was seventeen days old at the time of baptism so using the date calculator on Family Tree Maker I concluded that she was born on April 16, 1778.
Cut out of Original Image: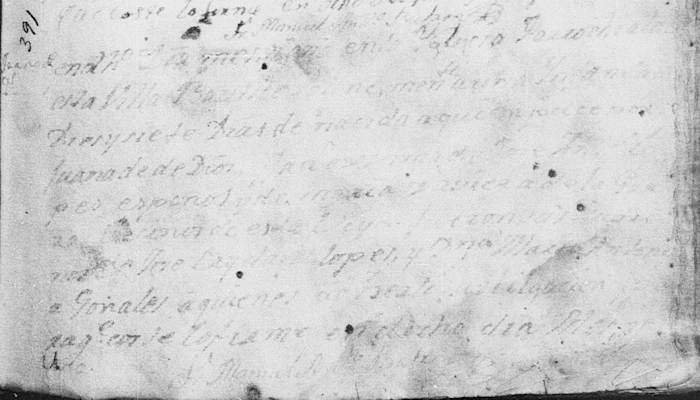 View Original Image at FamilySearch.org
Transcription of baptism Image:
Juana de Ds.

En dicho dia mes y año en la Yglesia Parrochial de esta Villa Bautize Solemnemente a una Ynfanta de Diesysiete Dias de nacida a quien puse por nombre Juana de Dios, hija legitima de Jose Antonio Lopez español y de Maria Xaviera de la Garza vecinos de esta Villa. Fueron sus Padrinos Dn Jose Cayetano Lopez, y Dna Maria Antonia Gonzalez a quienes exprese su obligacion y para qe conste lo firme en dicho dia mes y año

Fr Manuel Antonio Buitron
Sources:
"México, Tamaulipas, registros parroquiales, 1703-1964," database with images, FamilySearch (https://familysearch.org/ark:/61903/3:1:939D-HFB1-9?cc=1790934&wc=3JTD-GP8%3A144322101%2C144320402%2C950270601 : 21 May 2014), Mier > Inmaculada Concepción > Índice de bautismos 1767-1819 Bautismos 1767-1819 Índice de bautismos 1820-1874 Bautismos 1819-1874 Índice de bautismos 1875-1900 Bautismos 1874-1888 > image 130 of 2909; paróquias Católicas, Tamaulipas (Catholic Church parishes, Tamaulipas).