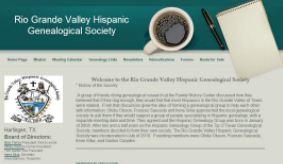 Earlier this month I received an email from Ofelia Olsson. Ofelia is the ex-president of the Rio Grande Valley Hispanic Genealogical Society and is currently the editor for their Newsletter. Attached to her email she had the current Newsletter for the month of July.
Let me tell you the Newsletter is awesome unfortunately I do not have a link where I can share with you all since the link will not be available until the next one is out. But you can check out older ones here: http://www.rgvhispanicgenealogicalsociety.com/Newsletters.html
As many of you are aware I wrote an earlier post about the Rio Grande Valley Hispanic Genealogical Society, but lacks a lot of information. So I replied to Ofelia as to I and you all can join their Genealogical Society and she sent me that following email.
Email from Ofelia Olsson:
Anybody can join.  The annual membership fee is $30 and it includes the current year's journal.  Journals are typically from 250  to 350 pages.  Members also get reminder notices via e-mail for our monthly meetings (except December).  A quarterly newsletter is also a perk.  Members get the current newsletter and it does not go on our website until the next one is out.  Membership forms are on our website.

Our website is www.rgvhispanicgenealogicalsociety.com

Thanks,

Ofelia
Hope this information will help you out.
You can download their membership application from their website. It is located on the homepage or use this link to do so: http://www.rgvhispanicgenealogicalsociety.com/uploads/Membership_Application_2013.pdf
I have been lately considering to joining myself, unfortunately I will not be able to attend the meetings but the newsletter and journal, in my opinion are worth it.
If you are aware of any other societies in the Rio Grande Valley please send me information about them so that I can share with everyone else.
If you would like to get notified when new posts are published and receive our free monthly news letter please join our mailing list. You can do so here.
Join my mailing list to receive a copy of this eBook for free!