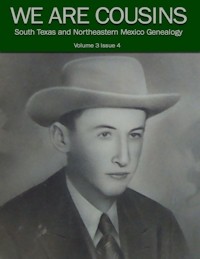 A magazine about South Texas and Northeastern Mexico Genealogy!  
It will contain;
Genealogy News
How To's
Book Reviews
Indexes of Births, Marriages, and Deaths
And much more.
Currently in the works, to be one of the first to find out when it is released please sign up for the WeAreCousins Magazine's mailing list here: Sign UP for Mailing List.

Submit Your Article for Inclusion

If you would like us to publish your article in our magazine please send it to us at magazine@wearecousins.info or use the contact form to send it.

The only requirement is that it has to be a topic about South Texas and Northeastern Mexico Genealogy. South Texas would be anything South of San Antonio and Northeastern Mexico would be the Mexican States of Coahuila, Nuevo Leon, and Tamaulipas.

Genealogy Associations and Societies

If you belong to a Genealogy Association or Society and would like to include information about it in the magazine just go ahead and send it to us at magazine@wearecousins.info  or use the contact form to send us the information.




Category: